The Bangles
Walk Like An Egyptian
(L. Sternberg)
Vicki, Michael, Susanna
All the old paintings on the tombs
They do the sand dance don't you know
If they move too quick (oh whey oh)
They're falling down like a domino
All the bazaar men by the Nile
They got the money on a bet
Gold crocodiles (oh whey oh)
They snap their teeth on your cigarette
Foreign types with the hookah pipes say
Ay oh whey oh, ay oh whey oh
Walk like an Egyptian
Blonde waitresses take their trays
They spin around and they cross the floor
They've got the moves (oh whey oh)
You drop your drink then they bring you more
All the school kids so sick of books
They like the punk and the metal band
When the buzzer rings (oh whey oh)
They're walking like an Egyptian
All the kids in the marketplace say
Ay oh whey oh, ay oh whey oh
Walk like an Egyptian
Slide your feet up the street bend your back
Shift your arm then you pull it back
Life is hard you know (oh whey oh)
So strike a pose on a Cadillac
If you want to find all the cops
They're hanging out in the donut shop
They sing and dance (oh whey oh)
Spin the clubs cruise down the block
All the Japanese with their yen
The party boys call the Kremlin
And the Chinese know (oh whey oh)
They walk the line like Egyptian
All the cops in the donut shop say
Ay oh whey oh, ay oh whey oh
Walk like an Egyptian
Walk like an Egyptian
Gotta love the 80's!
Why am I posting the lyrics to a song that is going to be stuck in every one's heads for the next 6 hours?(!) Because, I finished my "Walk Like an Egyptian" socks! These were ceated for Socktopia, August edition, and I'm super thrilled with them. SO much fun to knit, and I love the yarn, too!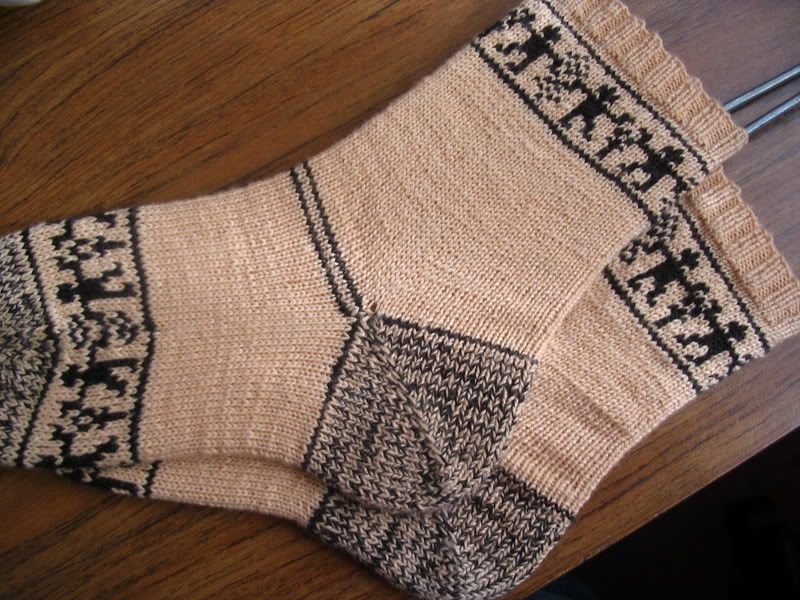 Stat:
Pattern: my own, baby!
Yarn: Regia Silk (yellow), and Lang Jawoll (Brown).
Needles: Knit Picks, classic circs, size 0
Notes: With themes revolving around great 1980's songs, my choice was a hard one this time! I looked to my stash for inspiration. I bought the Regia Silk during a Super Bowl sale this year, and was drawn to it. I wanted to knit either the "Walk Like an Egyptian" theme, or the "Eye of the Tiger" theme. Now "Eye of the Tiger" is the theme song from Rocky III - one of my all time favorite movies. I considered using the yarn to knit a "boxing shoe", a`la the "Italian Stallion - Rocky Balboa". I decided against it. How many people in Socktopia are really that big of fans of "Rocky III"? Who wold know why I made a boxing shoe? Also, it would be kinda weird to wear a shoe inside a shoe anyway. So instead, I decided to go with "Walk Like an Egyptian". I created some little stranded color work dudes, doing the "walk Like an Egyptian" dance, and went to town. I really like these socks. The yarn is so scrummy! Can I just wear silk all the time? oh, and Pheobe, from SnB, pointed out that I can assign the little sock dudes names of the people I don't like, and walk all over them when ever I want. :)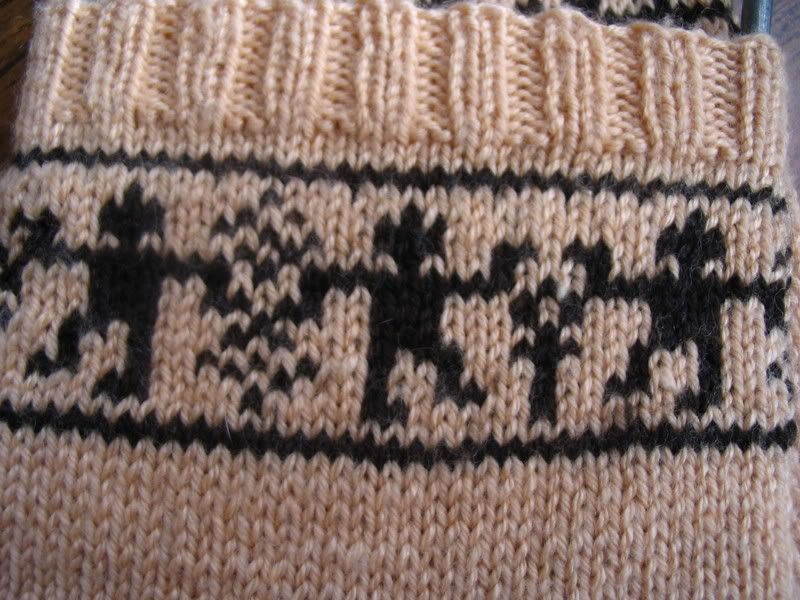 I am still firmly in my Stranded color work kick. I thought maybe the threat of all those ends in these socks would dissuade me from continuing on the "stranded color work road of doom". Not so. I'm already dreaming of more....