Want proof that I went to Rhinebeck?
Where else would one meet Bob?
awwww yeah.....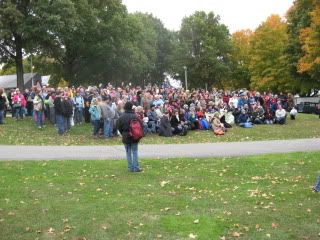 BackstageKnitter, HeadwigBC, AlainaJane, Evad and I all went to Rhinebeck this year, for a fiber rich, freezing cold, lamb burger filled weekend of excitement!! Of course, I suck, and didn't take many pictures, but I made up for it in yarn buying!
The only thing missing from this picture is the two skeins of Briar Rose Fiber's yarn that I have all ready knit with. Ooops. I managed to stay in the budget and pick up a mess of gorgeous stuff that I can't get anywhere except from the dyer. I still haven't officially put it way. I keep getting it out to pet it.
I also went to Star Wars in Concert! Ok, not a traditional knitting event, but I did knit during it!
Anthony Daniels was awesome in person, and the MUSIC. OMG. THE MUSIC. The whole thing was fucking fantastic. Really. GO see it if it comes near you. You don't have to bee a SW geek, the story is narrated as the concert goes on, and film footage is played behind the orchestra to help "tell" the story. The lobby display is totally cool too:
Just in case you wanted to be inches from the costumes like me!!!!!!