Have you ever had one of those moments when you decide something seemingly simple, only to discover that it impacts several other things in a (sometimes) less than desirable way? Umm, yeah. I did that.
I decided to give the Fountain Pen Shawl to a co-worker of mine. It is exactly her style, and I know she will love it to death. Cool. good. fine. Right?
No. Not so much.
See, my co-worker is the woman that directs a lot of the shows I design for ECA. I like her very much. BUT, if I give her an "opening night gift" for our show that Opens Aug. 1, I kind of have to give a gift to the other woman I work with, as they are of equal standing. The lady getting the shawl is the director, and my artistic collaborator, but the other woman is my boss, and the artistic director of the program. It's like office politics, but without the offices.
We all know where this is going, right? Costumechick has to knit a "something" for the other person, so as not to upset the local artistic ecosystem that is required for Costumechick to keep getting design gigs.
Really, I don't mind, as she is also knit worthy. I have no doubt she will adore, fawn over, and otherwise make a Big Deal over what ever I give her, but i have to select the knit gift wisely. (Just like Indiana Jones and the Last Crusade, but with out the mummification and exploding dust thing) I decided on this: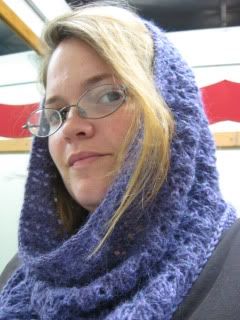 Name: Silk Fountain Hood from
Luxury Yarn One-Skein Wonders: 101 Small Indulgences
Yarn: Berroco Ultra Alpaca, left overs from a sweater - 2 skeins-ish
Needles: Knit Picks Options, wood, size US5
Notes:It took me almost all night to decide on a pattern. I knew I didn't have time to knit another shawl, unless it was a shawlette. A shawlette, next to a full size shawl would be kind of insulting - like getting second prize. I felt the same way about a lace scarf. (Oh, you. Here's the less time and effort gift for you.) I doesn't matter that she isn't really a shawl or lace scarf type. It's all about appearances.
Hat and gloves? meh. Purse? I've never seen her with a purse. (and my track record for actually finishing purses is slim. Anyone remember the Via Diagionale 18 month project?) Socks? I have no idea what shoe size she is. A Crab from the Summer Knitty? haha! Apropos, but not a good idea. I finally settled on a neck warmer/hood because it was very functional; girly, but not something you have to 'deal with' when you wear it; quick; and could be made from fancy yarn, thereby making it 'better'.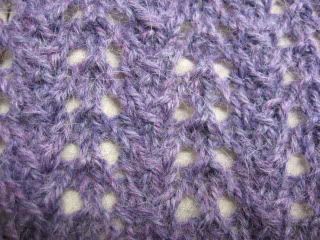 I love the yarn as much now as I loved it when I knit the sweater from it. It's so soft and easy to knit. Lurvvvve. It really shows the lace work well, which is always a plus, and won't be too hot to wear, since it is lace. Win win!
I hope she likes it as much as I enjoyed knitting it. The pattern is dead simple, and not the dreaded Feather and Fan, but not at all boring to knit. It is also quick! I cast on on Wednesday night, knit for about an hour, worked on it for a few hours at SnB on Thursday, and finished it up on Friday evening. I could have probably cranked it out in one day if i didn't have to work or anything.
The results are very cute, if I do say so myself. I think it is a great gift!!