Really, truly, I am. I've just been really really busy. It's not about to let up anytime soon, so ya'll will just have to bear with me.
In all the busy, I did manage to knit a little. I finished the "Blackhearted" Socks.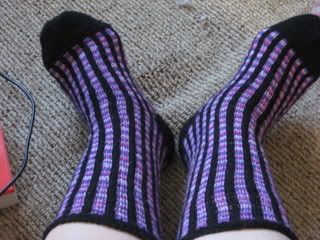 I finished clue 5 on the current mystery shawl. Still no pictures, but I am so close to the end, I might as well wait for the money shot at this point.
And... that's it. Sadly. I'm mostly working on costume designs right now. Sewing and sewing and sewing.
Later!