Shawls weren't all I knit this summer... I also did some sweater damage! I finished a sweater that I have been working on since... um... February.
Name: All purpose sweater
Pattern: Fresco Lace Bodice Cardigan
Yarn:Classic Elite classic 150
Needles: knit picks options 3,4,and 5
Notes: Dude. I cabled. You know I HAD to have a sweater if I was willing to CABLE for it. I also bought yarn SPECIFICALLY for it. This adds up to some serious love on my part.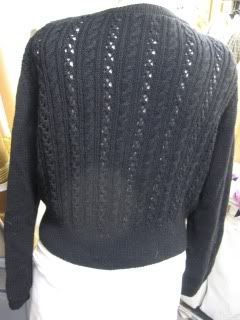 The sleeves are a little long - which is crazy with my monkey arms. They aren't long enough for it to bother me, but it is odd for anything to be long on my arms. Long story short, the cables were totally worth it, and so was begging yarn off people on ravelry to finish it, since I ran out of yarn. I plan to wear it all the time this winter!
I also knit a tank top this summer: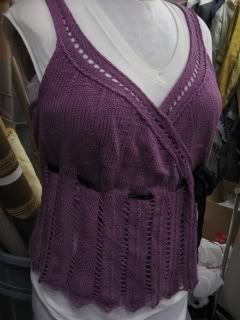 Name: Red Raspberry Swirl
Pattern: Orange Smoothie
Yarn: Ella Rae Bamboo Silk
Needles: Inox size 5
Notes: I started this as a companion project for my "Thursday Night New Haven SnB Chuck Norris Shawl a Long" Shawl. It also happens to be from my book list. It is a fun little pattern, and it easily adaptable to fit a range of shapes and curves. The most challenging part is figuring out what changes you, personally, need to make.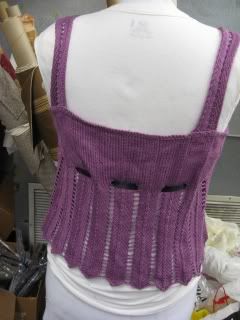 When it was all said and done, I did two sets of short rows at the bust, and made the straps to inches shorter. I also single crocheted the center back cast off, since the pattern didn't call for any kind of finishing, and it wanted to roll like whoa. I wore it a few times, I like wearing it, but the yarn pills up pretty quickly. I'm still happy with it though!
p.s. the saggy boob thing is because my dress form isn't nearly as endowed as I am in the boobage department.
Then, just when you thought I'd be sweatered out, I started another one!
It is based off of a 1910's pattern. I call it "Rose Ate My Sweater". It is currently my "in the dark" project.
and a pair of socks:
Which I decided to knit upside down and without enough yarn. (eyeroll)
Lastly, I made a little cute baby hat.
Aww.
I have to admit, I didn't feel like I was knitting much this summer, but I guess I was wrong!