When the Thursday Night new Haven Stitch n Bitch decided to have a shawl Knit-a-long, the first question from almost everyone was "which pattern?" We have quite a diverse group of people, with a wide range of tastes, skill levels, and lace experience. Choosing one pattern would be hard. How do we keep experienced fearless knitters, people with a mess of lace shawls under their belts, and new lace-kateers all going on one pattern?
We decided not to decide. :) Instead, we are having a "knit at your own pace, everyone knit the shawl you like, and we'll cheer each other on A-Long" Since that is a smidge too long of a name, we'll stick with "Shawl KAL".
I decided to knit this one: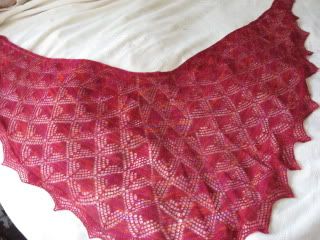 Name: Lava is Hot, Hot, Hot!
Pattern:Faroese-Style Lace from Shawls and Scarves: Best of Knitter's Magazine
Yarn: Touch Yarn Merino 2 ply
Needles: Knit Picks classic circs, size 3
Notes: I choose this shawl for the KAL because it was on my "books yet to knit from" list, but also because it was a construction style I hadn't knit yet. It is cast on at the CB neck, but grows straight down the center, with two "triangle" side growing out of each side. You can see the straight center panel below, and the sides.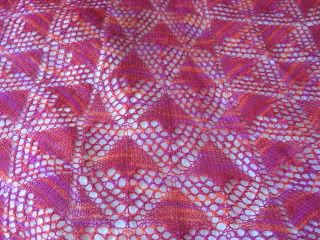 It also has a slight curve to the sides, making the whole business stay on your shoulders with absolutely no problem. Good knitting engineering! The yarn was a good all purpose base yarn - like Merino Ono, but being variegated, it was hard for me to imagine the final outcome. I loved the colors in the hank, but knit up - there is always potential for it to look like utter HORK. I officially think it does not look like hork. I think the combination of a very liner/ geometric pattern and big swaths of Stockinette makes the color shine and not distract from the final piece.
The edging was a wonderful change of pace when I finally got to it. It is knit on side ways, using up the live stitches as you go. This means, to those of you paying attention, that you only have 5 stitches to cast off at the end. 5!! The worst part of lace knitting is casting off. Trying to get a stretchy edge, that looks neat, and is consistent over 500 stitches sucks. This was way better. I've done edging cast offs before, and I can safely report that I still love it.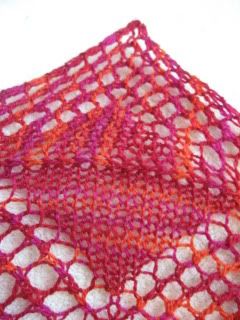 Overall, I had a great time knitting this shawl, and I loved doing a free form Knit A long. While most of the group is still plugging away, it is so fun to have a cheering section -and that is the final step of my KAL. Cheer till the last one's done!