Really, I am sorry about the FO only posts, but I'm having trouble keeping up with life right now. But, I have managed to finish the latest in my Mystery Shawl KALs. (and only a week late!)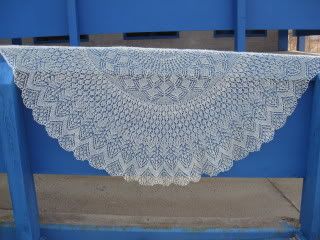 Name: Vernal Equinox Shawl Surprise
Yarn: Winterbury Hill Farm Coopworth Yarn 2 ply Lace weight
Needles: KnitPicks Harmony interchangeables, size 5
Notes: This shawl was knit in 7 clues, and uses the "pi" method to increase. It was quite fun, easy to follow, and the clues were of a manageable size.
I've never knit a half circle shawl before, so I was excited to see that I was when I finished clue 1! It really does stay on the shoulders well, and covers your whole arm, with out having a point down to the back of your knees - like a triangle. I might be a half circle convert.
The yarn is a little stiff when you knit with it, but it softens wonderfully after a wash. I was afraid that the added "sparkles" would make it scratchy, but it really isn't. The natural color of the wool is beautiful, and is not too warm or cool. The bonus is that is is from CT! Home grown, spun and knit!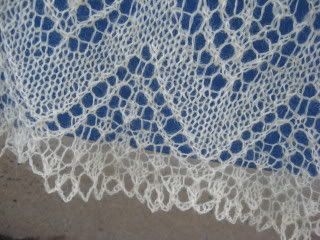 I decided to do the crocheted cast off instead of the knit cast off variation. I don't mind a crochet now and then.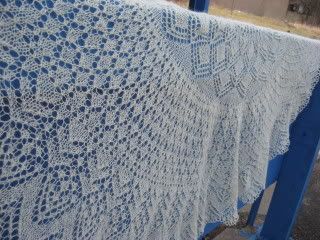 Pinning this sucker was quite the adventure. A billionty pins later, I really like the outcome. Be prepared if you knit this one. buy stock in pins.
Well, I shooould go. I need to get back to making armor. Woo Hoo!