I shall now speak in prose about my love for Cookie A.
A knit designer named Cookie
had stuff that made me lookie.
her book rocked and rolled,
on it, I was sold
and I now have a gift "off the hook"ie.
how about in Haiku?
swirling, warm and soft
knits and purls dance across socks
all hail Cookie A
In all seriousness, I LOVED knitting these socks. Cookie A's patterns are the bomb-diggity.
Named: Angee Mink
Pattern: Angee from "Sock Innovation" by Cookie A
Yarn: Dye Dreams Twinkle Toes in Mink
Needles: Knit Picks classic circs, US 1
Notes: I love love love a lace pattern that has a nice long chart. It fills me with so much glee when I realize "huh, I only have to knit this chart twice before I get to the foot." It really feels like you are making soooo much progress! Also, Cookie A (did I mention that I love her patterns?) has a great way of creating patterns so that it looks hard, but when you really get into the sock, it isn't hard at all! her book is crazy informative about sock designing, pattern writing, and customization - not to mention the butt loads of awesome patterns to choose from. If you love to knit socks, and you haven't knit a cookie A pattern yet, go forth and knit! She has a few free ones on Knitty - including the ever popular "Monkey". You should try one. Go. I'll wait.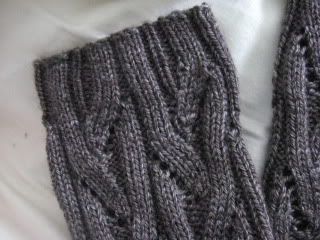 See?!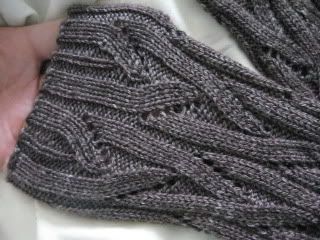 I knit these socks as a holiday present for a person I work with. I hope she likes them as much as I do. The yarn is beautiful - kind of a purply brown when you get it in the light. It has a shine to it too, which comes from the tencel blended into the yarn. It is so silky to knit with, I was almost sad to be finished! The skeins are very generous too, making it easy to get larger socks from one skein, if needed.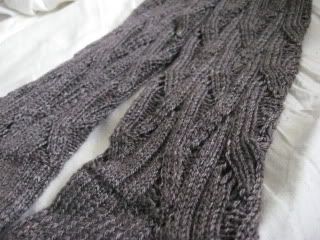 Overall, I'm incredibly pleased with these socks. they were a very fun, and quick, knit. Highly recommended!