I won the Great Canadian Pie Off!! WHoHoo!
I suppose I should explain. Every year, my place of Employment has a season kick off party around this time of year. The highlight of the event - other than the drinking (smile), is the Pie COntest. It is called the "Great Canadian Pie Off" because our former Managing Director was Canadian and loved pie. The award for first place is braging rights for the year, a small trophy and a big cooking item of some sort. I got third two years ago ( a candle and a pie server), honorable mention last year ( I would have had first, except I DROPPED my PIE! at least according to the judges), and I nailed it this year!!
I made my own recipe:
Apple Raspberry Pie
Crust - make your own, enough for two crusts
Mix together: 1 1/3 cups sugar, 1/3 cup flour, 1 tsp cinnamon, 5 cups of peeled sliced tart apples, 2 cups red raspberries.
Place filling in unbaked crust. Squirt in about 1 Tbl of Lemon Juice. Dust top of filling with more flour. Dot with 2Tbls of Butter.
Cover with second crust, cut slits to vent steam. Wet top and sprinkle with sugar. Cover edges with foil. Bake at 425 f for 50min. Remove foil when 15min left to bake.
On judge hates raspberries and couldn't stop eating. Just saying.
Here are my awards: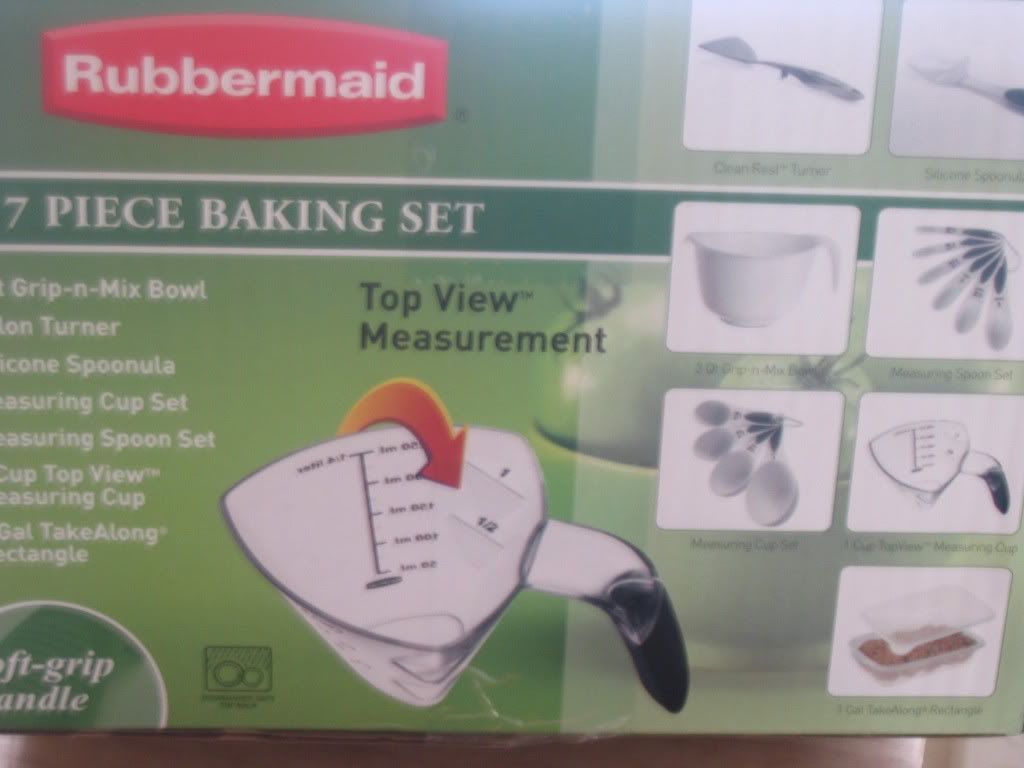 7 piece baking set. Kick ass!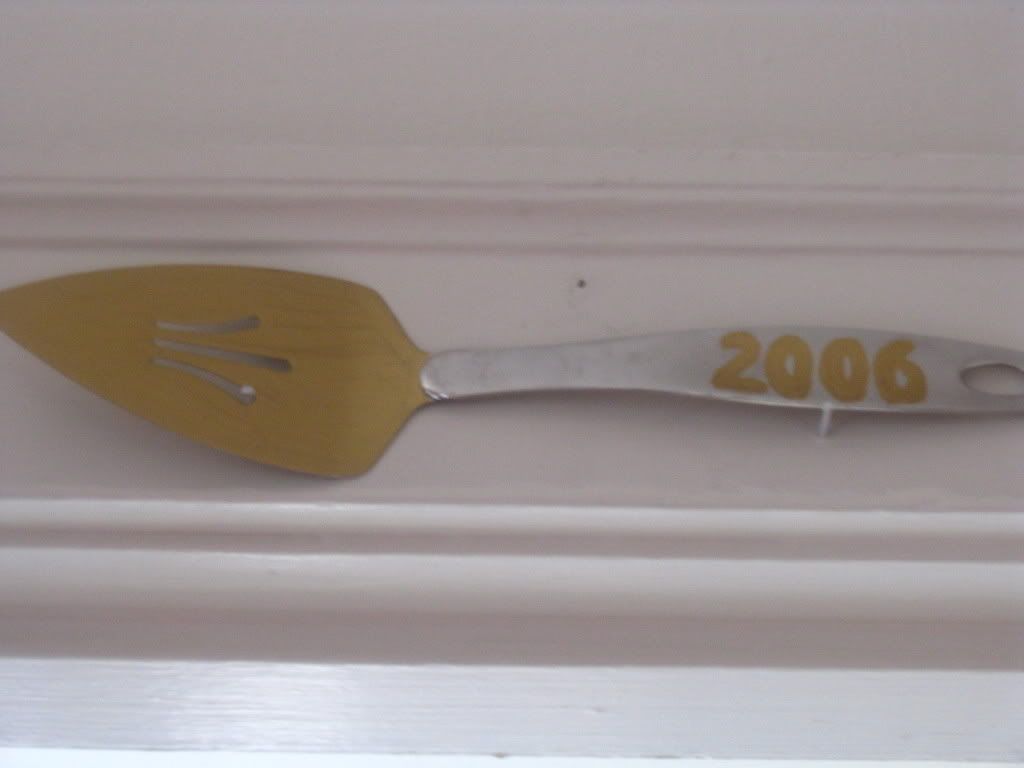 The coveted Golden server - just for display, not for use. DH hung it above my kitchen door.
So now I get to brag all year, and judge the pie contest next year. sweet.
I also found time to knit, even while staring at my "major award" and giving interviews. (ha)
I got two Christmas Presents finished!
The First is Dayflower Lace Scarf, knit in Classic Elite, Montera ( I think) This was stash yarn that I wound a long time ago. It is so pretty and soft. I know it has mostly alpaca in it.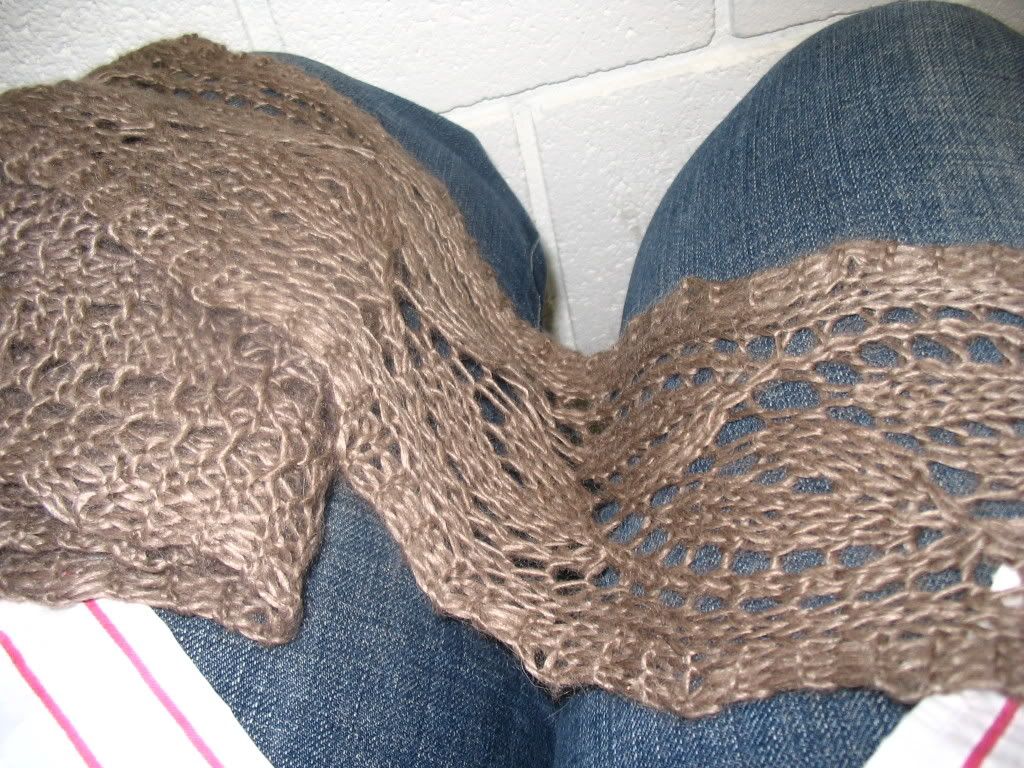 Shiny.
I have no idea what size needles I used. I actually finished knitting this in April (?) I just NOW blocked it. But that counts as finishing!!
Second is Leisel, knit in SWTC soysilk. Another stash yarn. The color # is blacked out, along with the yarn name. It looks like Oasis to me. This was knit with size 5 inox needles.
When I put it in to soak, the water turned PURPLE. I couldn't even see the scarf through the dye. I hope it is finished leaking dye...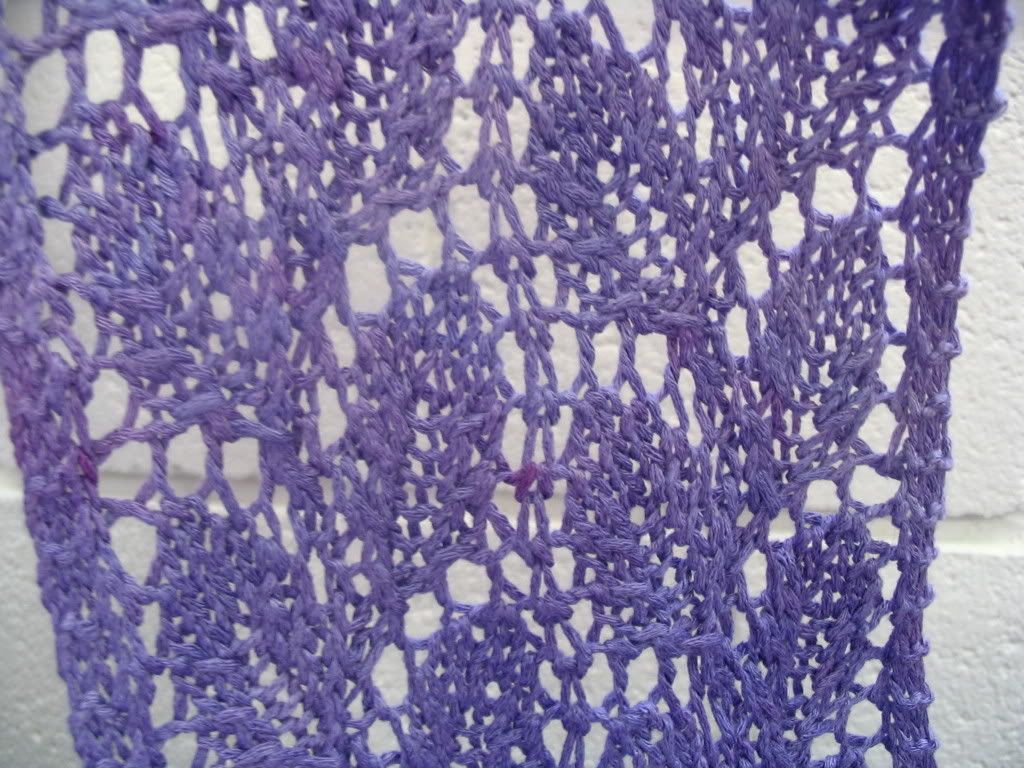 Both of these scarves were fun to knit, but neither had true "rest rows". Dayflower has two rows that require you to "think" on the purl back row, and Leisel has knitting and purling combinations on the returns. Neither are hard, they just require more attention. The end results are worth it.
Tonight's SnB. I hope to get a few repeats into the second leg of the socks I've been working on. I won't get much knitting done this weekend. I have TWO weddings to attend. Both are all day style functions. The second goes from Sunday into Monday. I think I will need monday to recover from the sheer amount of liquer I will consume...