Well, I have another opening night tonight. It's Man of La Mancha. For those of you unfamiliar with the piece, it is a musical about Don Quixote. I don't like musicals. There, I said it. I really want to stay home a work on my FPS, not go to a required work event. Well, i want the free drinks... I didn't design this show, so you can understand my reluctance to go. Ehh. At least I am finished with tier 13. more than half way!
I like the encroaching blob picture. The stole that ate my dining room!!
Oh! Check this out: I am mainly using my KP size 3 circs on this stole, but I did buy the DPNS, just in case. I have been using them when the "giantness" of the stole starts to annoy me. Not as holders, just as working needles. I use one side of the circ, and one DPN. It's odd, but it works for me. Anyway, check out the tarnish on the DPN: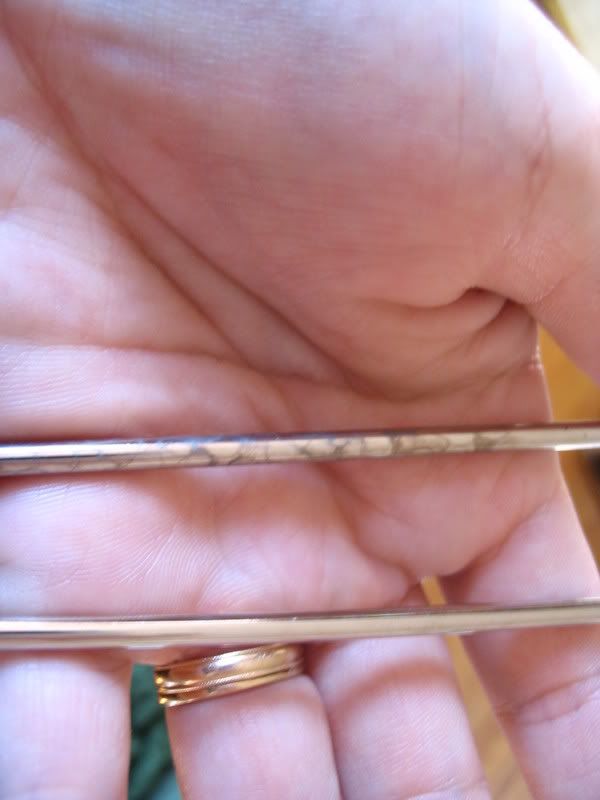 Maybe I need to knit with more than one DPN. Using the same one all time time may not be the best idea. FYI - I'm not upset about this. I strip the finish off of every needle I come in contact with. I expect it, and am surprised that the circ is holding up so well.
I also whipped up the hat for my friend who is going "ice climbing". (i.e. death wishing) She cannot wait for it to dry! SO excited. That's the way I like it!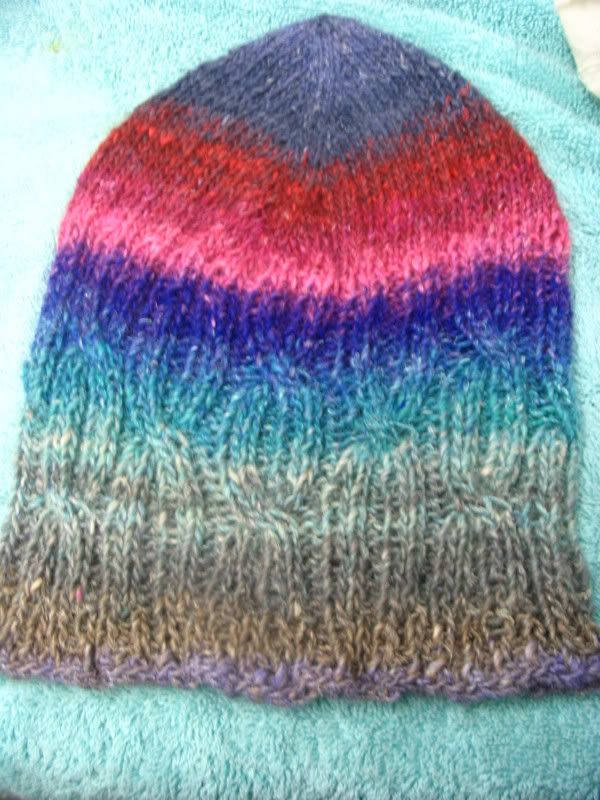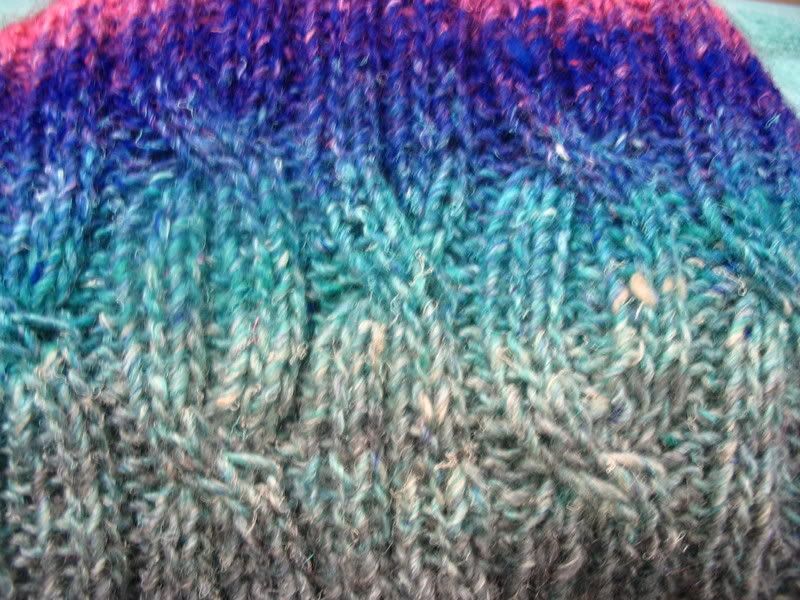 The info:
Yarn: Silk Garden Lite
Needles: KP options size 5
Pattern: ummm.... yeah. I just made it up. It's a top down hat, and I did some ribbing. Then I did some cables. Seriously. Just went at it. No real rhyme or reason - just like my friend. I loved the yarn. I bought this originally for a pair of fingerless mitts for me. I now realize that I don't need two skeins fo yarn for fingeless mitts, so I could use one for Sam's hat. It is the perfect yarn for her. Thin, warm, and random. I can now compltely understand the love for Noro. So pretty, and so addictive. I still think that the kureyon feels rough, but the silk garden softened up a lot. Maybe the all wool would too. I might need more of this......
The little green sweater is blocked, woven in, and ready for buttons. I would have it finished, but I changed my mind on the buttons. I need to find something... better. Maybe bugs.
The next Socktopia Socks are "formulating" in my brain. hmmm. I can't wait to vote for this past month! So many pretty socks!
That's it for now! Tomorrow, pics of the socktopia march yarn!