I have finished lace projects #12 of 21 total projects for the year (so far). It is yet another circular blanket, but this one might be my favorite, so it is therefore not repetitive.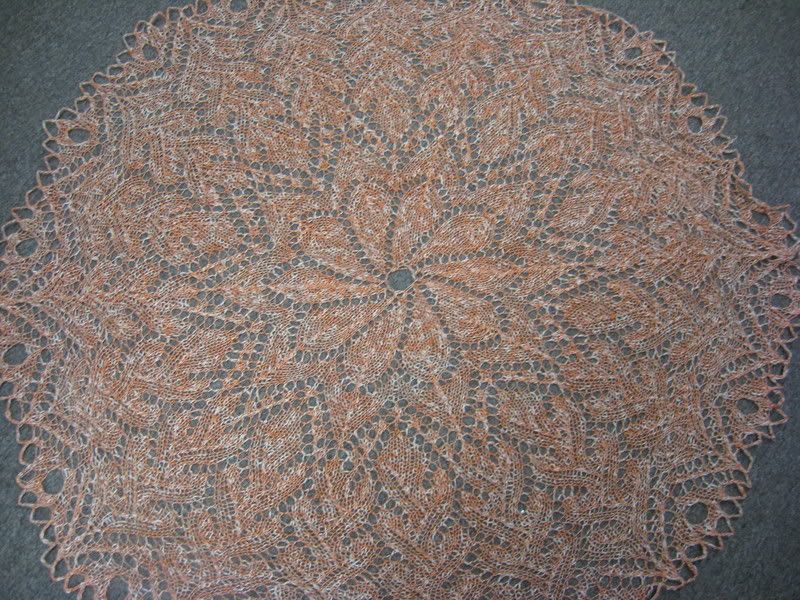 Name: Dart and Leaf
Pattern: Egeblad by Christine Duchrow
Yarn: Farmhouse Yarns Summer Spun in Tangerine
Needles: Knit Picks Harmony Interchangeable, size 10
Notes: I found this pattern on Ravelry. It is published on the Yarn Over site. I always prefer to knit form charts when possible, as I am a visual/spatial person. Unfortunately, the charts in this pattern had some issues. I managed to sort them out, but I would have been up a creek if I had been a less experienced lace knitter with out written instructions. Notably, row 34, and the last two rows of the chart are messed up. Row 34 has an extra "knit box" - this one is easy to see if you read the written directions and compare. The last two rows of the chart are off by 4 stitches each. Row 84 says to knit 9 according to the chart, and knit 13 on the written instructions. I don't know about you, but to me, these are different numbers. The next row is the same way. The written directions are correct. Just saying.
As for changes, I did do a little. I knit the pattern on larger needles, and with bigger yarn. I also added one extra repeat of the "leafy" section - row 58-68. That extra 10 rows added about 4 inches in width to the blanket. With out the extra rows, it would have been a little small.
The bind off on this one is sweet. I am not much of a crochet person, but I do love a pretty bind off. I do wish I was a little faster with the hook, but I can't complain really.
This blanket is for a friend of mine, who will most likely know it's for her, as she occasionally reads this blog. Oh well, that's how it goes. I'm sure she'll still like it, even if it isn't a surprise. I named it Dart and Leaf after a type of molding. Dart and Leaf is a pretty traditional, but beautiful trim. This blanket, with it's leafy parts and big yo eyelets, reminds me of that molding pattern.
http://www.buffaloah.com/a/DCTNRY/l/leaf.html
The recipient is graduating from a school in Massachusetts, specializing in Preservation Carpentry. She is going into a career that is all about preserving architecture and old buildings. Not only does she do things like shore up foundations, but also she carves little pieces of moulding and trim to match old pieces. Frankly, she is part artist, part carpenter. When I saw this doily pattern, I knew she would like it. I knew I wanted to knit her a blanket to take with her when she moves to Maryland, and onto a very cool new career. I wanted her to have a little hug, in a nice cheery color, that would remind her of how proud I am of her achievements. I also wanted it to have some significance to her chosen field. I think I managed it pretty well.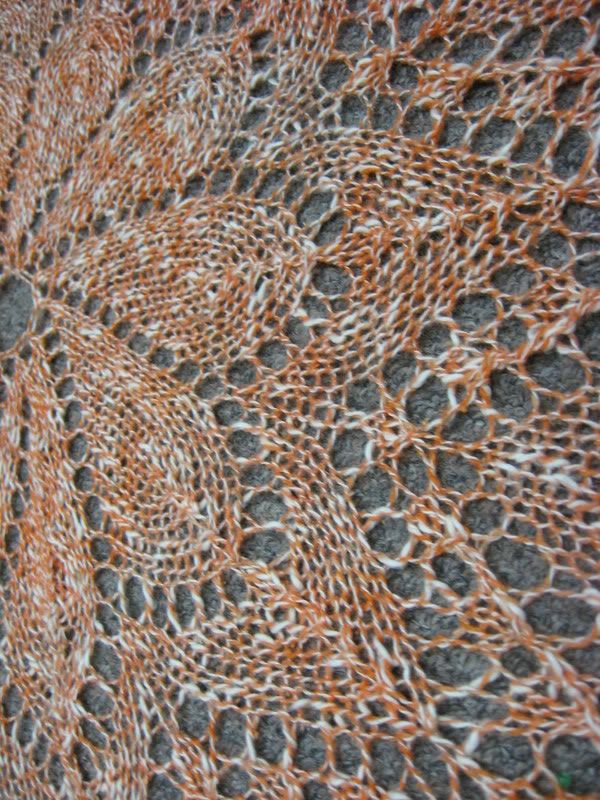 I also look at my gift to my friend as a promise to see each other in the future. When I was in Grad school, she was an undergrad at the same University. She graduated and moved away to do stuff. We hadn't been close, but we had been friendly. I didn't really know where she went. Fast forward 5 years. I get hired at LWT. I researched the organization. I noticed a name on the website that I knew. Was it her? Turns out - same person! I had a built in connection to LWT. Now, as my friend heads off in yet another directions, I have no doubt we will cross paths again. Sometime...