...keep falling on my heeeaaaddd. But thats not duh duh duh duh DAH! Cryings not for me! SO, duh duh duh duh duh duh duh duh duh duh daaaaaa... SO I just hmmmmmmmmm.
So sue me. I don't know the lyrics. But, I do know the socks!
Name: Raindrops
Pattern: Vertical Eyelets by Charlene Schurch, from MSKS
Yarn: Farmhouse Yarns, Fannie's Fingering Weight, in Olive
Needles: Knitpicks Classic Circs in size 0 and 1
Notes: I knit these lovelies using my standard tow up method, inserting Ms. Schurch's Vertical eyelets pattern on the instep and front leg of the sock. I decided to rib the back leg just for fun. I roll like that.
There isn't too much to say about the pattern, as the More Sensational knitted Socks book allows the knitter to cut and paste all over the sock to get "just the right sock" for her/him. I did gat bored with these socks before I ever even made it past sock 1. I mean BORED. I had to bribe myself with casting on something else as soon as I finished them, just to get through the last half of leg 2. It was quite the slog, but worth it I think.
The yarn is very nice. It is a little thicker than sock yarn I am used to, but the end result is so cushy and squishy, it just leaves me drooling. As with all hand painted yarn, the socks didn't come out exactly the same, as sock #2 has more of the green color in it, but I don't care. I like them this way.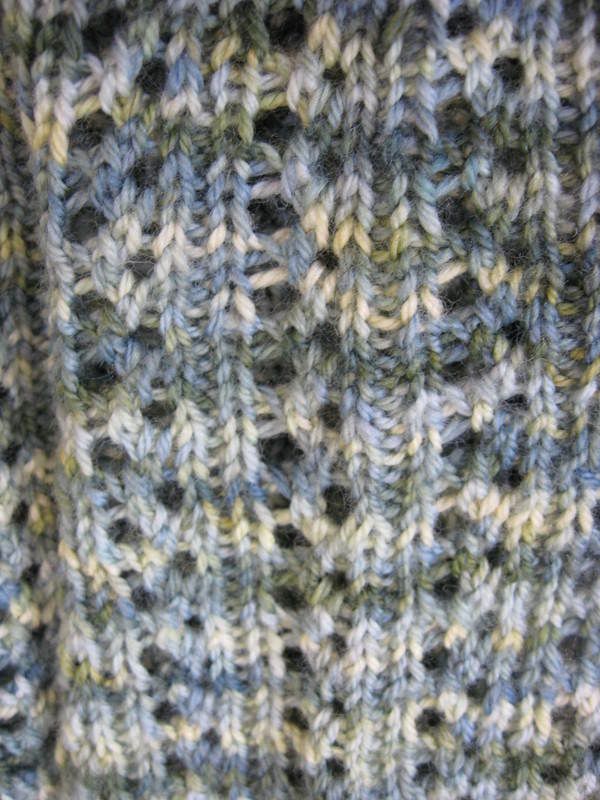 I knit these for April Socktopia Socks, in the category of "April Showers". I think the vertical rows of eyelets look like raindrops falling down the outside of the window. The colorway reminds me of the view from my car when I drive beside the beach in April. I long for the warm temperatures of May and June so I can sit in the sand and enjoy the sun. Instead, I look at the blues, yellows and greens through rain running down my windshield, and dream....
(Am I the only one that smells her sun block in the winter and late spring just to feel like summer is coming?)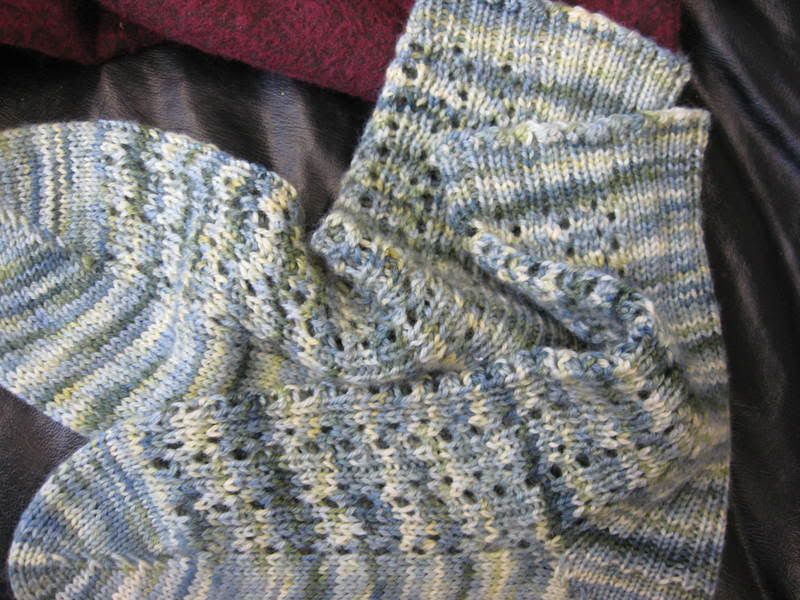 Overall, I am very pleased with these socks, but I will not be knitting them again! Oh, and for the record, they are lace project #9 out of 17 for my Year of Lace.