I did it! I finished my sweater! Not only did I weave in all the ends, basted the zipper in place, stitched down the drawstring casing, and threaded the drawstring through, I also ACTUALLY stitched the zipper in place by machine! I am usually a supremely lazy person when it comes to such things. I wear things without ever sewing on the buttons - and heaven forbid a button falls off. I'll never sew on a replacement. It is not unusual to hear a similar conversation to the following in my house:
DH: "I have a hole in my shirt."
ME: "hmm."
DH: "If only I knew someone that could sew."
ME: "If only."
I sew for a living. Sewing for pleasure is not really my "thing". I don't hem pants, I don't sew on buttons, and it is a cold day in Hell before I iron. This is why it is amazing that I actually did the finishing on my Zippery. Damn amazing.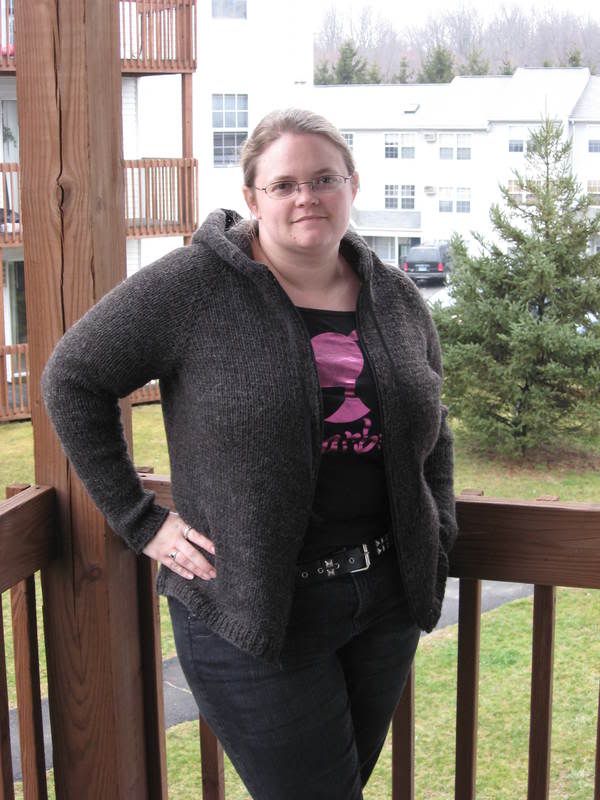 Name: Zippery
Pattern: Knitting Pure and Simple Bulky Neck Down Cardigan for Women #252
Yarn: Cascade Ecological Wool, color 8025, 2 skeins
Needles: Knit Picks Options size 10.5 and 9
Notes: I knit it in a week! And I finished it the next day! I'm actually quite astounded with myself. Did ya' guess?
First, let me say, i love this yarn. It is not merino soft, but I am not a sensitive skinned person, and a little scratch is fine by me. Working with it is wonderful. Th yarn grabs onto your fingers as you work with it - no slipping and sliding away. The grab is also nice because it helps make beautiful even stitches. The wool itself is a gorgeous blend of natural colors, spun into a color that is mystifying to me. In some light it looks dark grey, and in others, it has a dark brown quality. There is a hidden Costumechick Bonus to this yarn too.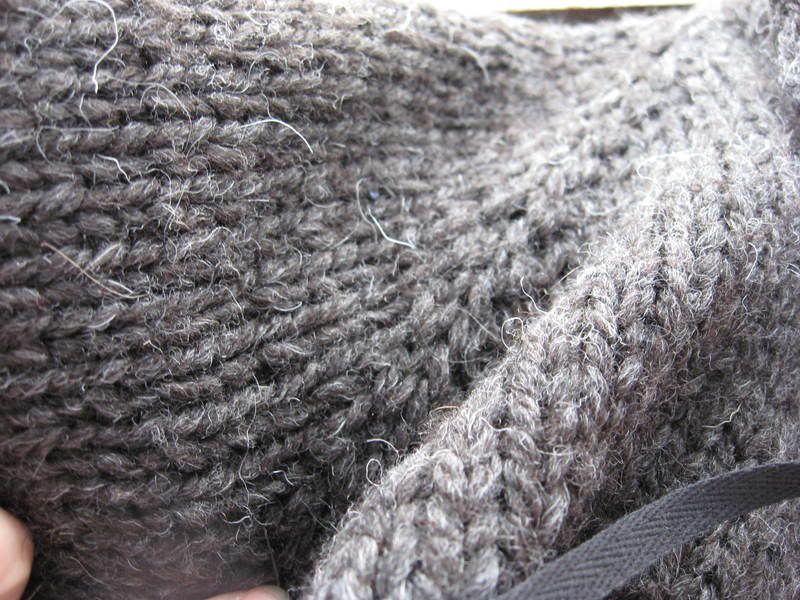 See the white fibers sticking out every now and then? These are handy fibers Cascade put in just for me. They are kitten hair camoflage.
Cascade Eco wool is also processed in a minimal way, so it is very "natural" (sheepy). It smells like wool, if you know what I mean. I like that a lot. The minimal processing helps lower the environmental impact of the yarn. Also, it comes in very generous hanks. It took me two hanks to knit this sweater - with some left overs. Of course I got scared when I started the sweater and ran to the store for one more. Oh well. I love the yarn, so have another 400+ yards to work with is not a bad thing.
As for the pattern, I'm in love. I have not knit a Knitting Pure and Simple pattern I haven't liked. They are the penultimate in adaptable easy knits with minimal finishing. I only had 6 ends to weave in at the end of this process, and no seaming! Be still my heart. Also, I'd like to point out that this sweater fits, without any crazy recalculating, modifying, or general fussing. It's nice when that happens for once.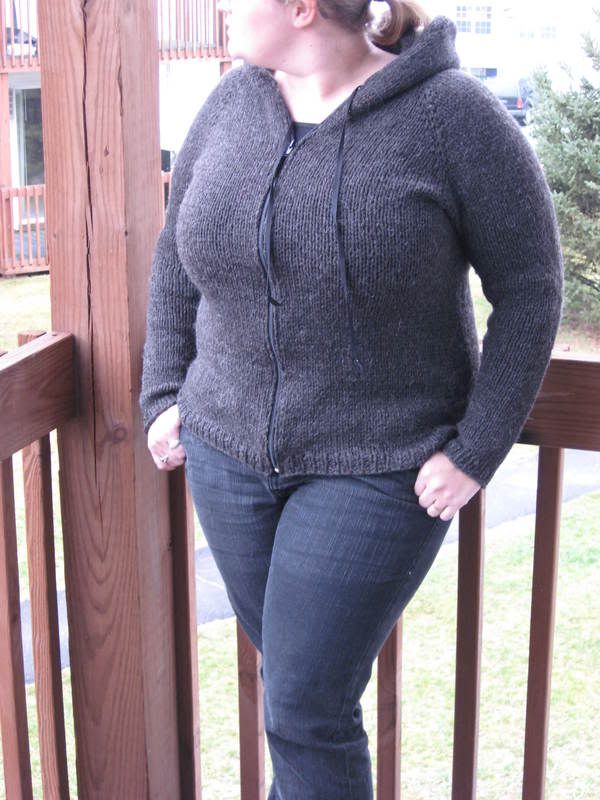 I know you are wondering how his sheepy smelling, fuzzy sweater could possibly warrant the blog post title "Zippery, yo." Well, my gangsta sistas, it's because it is a hoody. I used my mad kitchna skillz to sew up this hoody, yo. And I'm sending a shout out to my SnB homies that wanted to know what twill tape wuz . This is twill tape: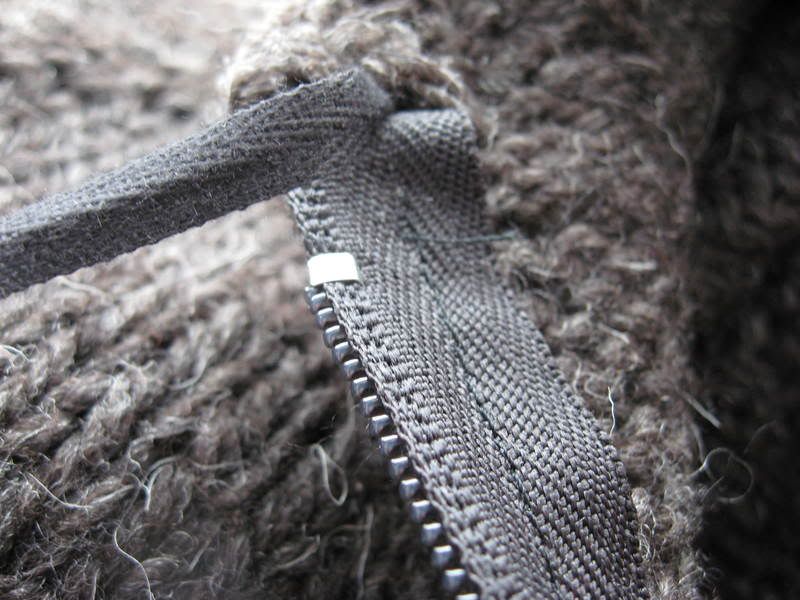 It's cotton, woven twill style, and it's made thin width wise - like tape. Usually you use it to stabilize seams and such, but I'm using it for a fly hoody drawstring.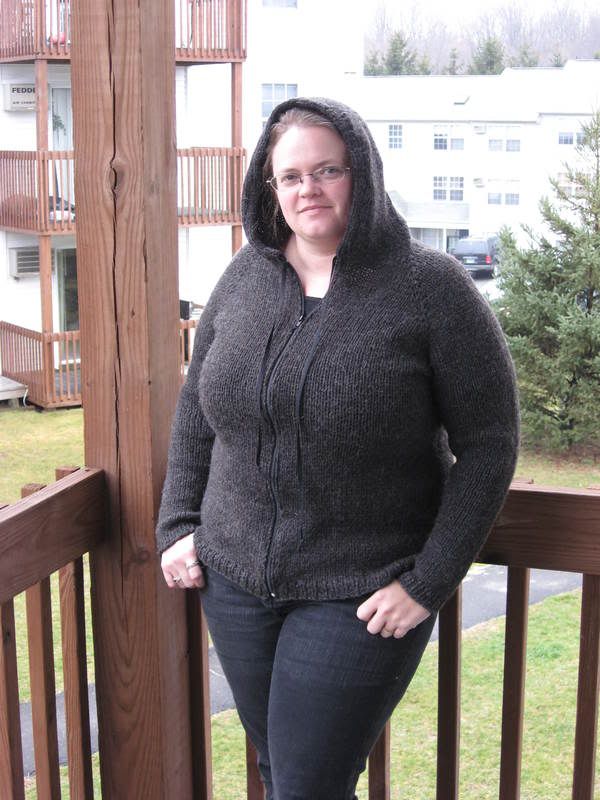 Now lets give it up for Costumechick and her mad skills!
Represent, Bitches!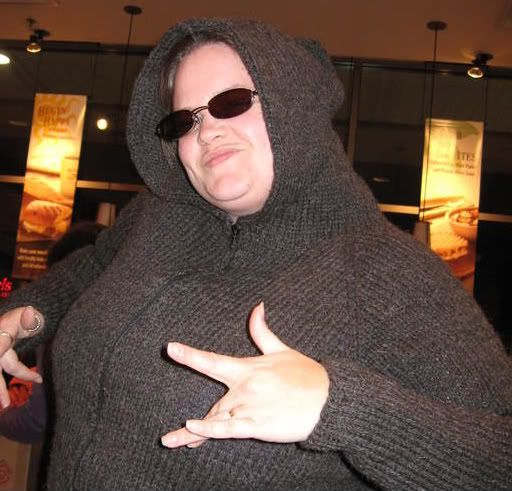 (I totally cropped this picture, but it's not showing up cropped on my blog. WTH!?)