I have had a knitting DISASTER!
The armseyes of my sleeves for DH's sweater are a million inches too big!
ok. I'm exagerating. They are about 6" too big. That's still freakin' HUGE!
So I have to decided what to do.
I can frog and reknit them a size smaller, using my patterning skills as a guide - as opposed to blindly following the pattern as I did before.
I can do major sewing surgery - this is a tad scary, and not high on the list.
I can say "screw it!" "I'm makin' a sweater vest."
I am leaning towards re-knit. Blech. I wanna be done with it.
stupid sweater.
I couldn't even look at it on Sunday Night. For fun I inserted the sleeve, as is. It is really REALLY stupid looking. Like a leg o' mutton sleeve. Actually kinda funny, if you think about it.
SO, since I didn't feel like working on the sweater since the disaster, I decided to reswatch for my FPS. I didn't take a picture. It looks like the last swatch, except I used different needles. My KP size 3's came. What a difference!! I LOVE LOVE LOVE them. I got the DPNs too, in case I want to use them to work the entrelac bits. We'll see once I get going.
Funny thing about the DPN's. DH had to dumpster dive to retrieve them. Yep. I threw them away by accident. Thank god we threw our garbage out after the truck came in the morning. Talk about pissed off!!
I also found out the themes for February for Socktopia! I'll post more about them tomorrow.
Lastly, I made a trip to NYC for work on Friday. Coldest dang day of the winter so far- (woo hoo) and I got to trapse around Manhatten in it. Of course I had a subway line problem, and had to walk 8 blocks in -15F (with windchill) to get to my meet up point with my assistant. I was walking and grumbling, when I came across... SCHOOL PRODUCTS! It is an awsome NYC yarn store that all the NY knitty's talk about. I went it. In my frozen haze I bought this: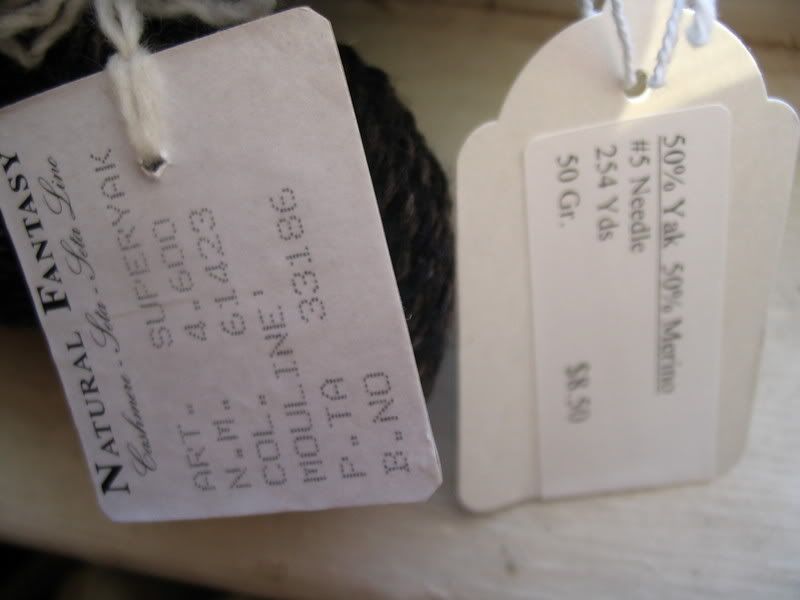 I am going to make gloves to go with my 1960's coat. It is absolutely perfect for it. It looks a bit blue in the picture, but it is really black and brown. I've been putting off the glove project for lack of a good yarn choice. I found one! Of course, I found one when I have another pair of socks to start, a big KAL to do, and a sweater to finish.
Tonight will be about the frog. And the sock planning. Maybe a little actual knitting - if I stop typing and go home.