I am prepping the box to send off to the Orphan Society "Red Scarf Project" this morning. I am waiting to send it for a few more days because I have one more scarf trying to make it into the box, so if you are reading this, and are still trying to get your scarf into my box, you'd better stop reading and start knitting!!
The total, as of this morning is...... 18!! we collected 18 scarves for a wonderful purpose!
The pile:
These are the first names of the wonderful kintters and crocheters from LWT, and a friend from SnB!
Alice
Lesley
Denise
Sara
Caroline and her Mom
Amy
Danny
Sam
Christina and her Grandmother
Amanda
Phoebe
and Me and my Mom
Good job everyone!
and as promised,
pictures of my three scarves: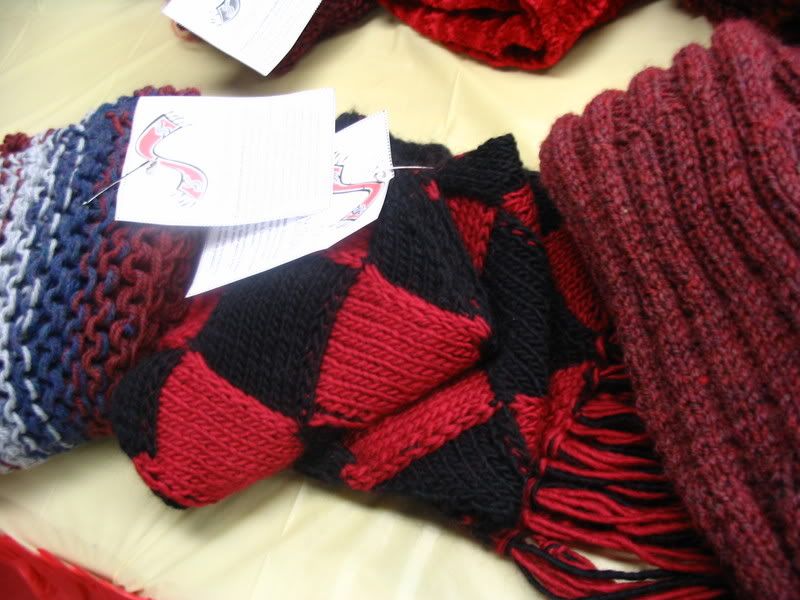 The one on the left is Woolease. The middle one is Lambs Prise Worsted. The Right hand one is Encore worsted.
The entrelac one was knitted to learn entrelac. Since I have had FPS on my to knit list for a while, I decided it was time to learn the technique. What better way than a scarf? All in all, pretty easy, and quite impressive looking.
Thanks again to all who participated!!