The lack of reliable pirated Internet at home is getting annoying! Sheesh! Don't these people know that I depend on stealing their service? ow am I supposed to do blog updates and waste copious amounts of time on Ravelry with no Internet service? I had planned on doing a couple WIP posts spaced out over the weekend, but obviously, that didn't happen. SO you are getting the sweetened condensed version.
The KAL sweater AKA Iceberg Lettuce
I have started the second sleeve! the first came out great, and fits really well. The skirt, however, is a different matter entirely. I will be ripping it back and re-doing. I am stalled at the moment while I try to decide what I am going to do. I might need to rethink the stitch pattern.
Angee Mink Socks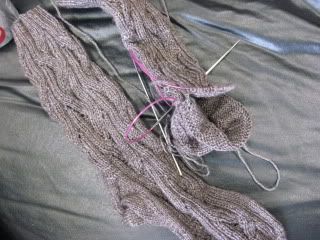 These never even made it to the blog. I started them the 22nd of August, and just didn't get a post written before now. I'm on the gusset of sock #2. The pattern is an awesome Cookie A. sock from her book. The yarn is called "twinkle toes" and I picked it up at the CT Sheep and Wool Festival last year. I've been really random about working on these socks, since they are my travel project right now. That said, they are flying off the needles!
#62 Nichole Collared Pullover "peter"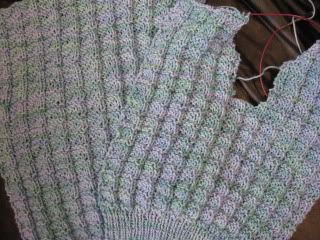 I'm naming this after the colorway of Schaefer Yarn Nichole. Peter Sweater. It's fun to say. Try it! It is a test knit, so I've been concentrating on it the last two days. I made a pretty good dent! I'm about 1.5" from finishing the front, then I have the sleeves and the finishing to do. Not too shabby!
You are now officially caught up in the knitting world of Costumechick. Congratulations, and please be careful debarking the ride!