OK. I know the universe reads my blog. So I'd like to say, here and now, "Cut it out."
I went this morning to get my window fixed - the one that refuse to go the whole way up yesterday. Evad and I took the door apart last night and determined that it was not a simple mechanical issue. It wa a burnt out motor. Right. SO we called around and found a place to do it today. We ghetto-fied the car last night, in case of a thunderstorm, and went to the car place with high hopes.
HA! 6 HOURS later, they finally fixed the car. Granted, we had to wait 45 minutes before they could even look at it, but we knew that going in. We didn't know that they had to get the part delivered from Sweden by horse and buggy. Seriously. They didn't have the part, and sent someone out to a competitor to buy the part. Meanwhile, we sat. It's good our schedules are flexible.
I, of course, used my time wisely. Last night I finished the knitting on my little sweater.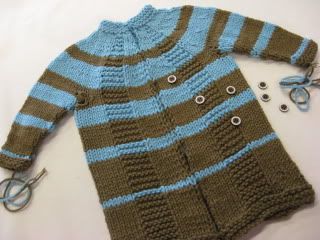 I didn't take it along to work on because I thought, "Oh, we won't be there long, and the button bands are fiddly." HA! Again! I could have finished it, wove in the ends, and knit a damn hat!
Instead, I looked through my list of "books yet to be knit from" and pulled out a good take along project. "Silk Purse" from Knitting Classic Style, knit in Noro Silk Garden Lite.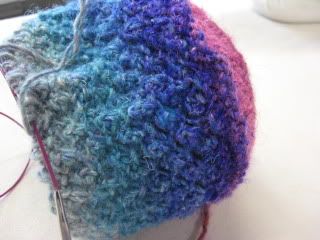 I got a lot done - like most of it. Can I say, I love a project that carries its own yarn! I'm embarrassed to say how many books i have that I haven't knit from yet. Maybe that is a post for tomorrow...
Anyway, it took so long at the car place that I missed lunch and ended up eating drive though. This doesn't sound bad, but it is. Too much sodium makes me really sick, so I've had a sour stomach ever since.
Finally, we had a big "financial accounting systems" meeting at work. It sucked. It pissed me off. And, it ended a completely ass ended day in a completely ass ended way. At least my knitting looks ok!