See: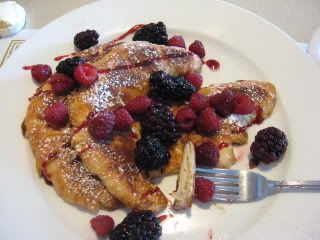 Evad reminded me before I took the second bite that I wanted to take a picture.
I didn't *just* eat for the past two days. I also finished the silk purse/ sock bag!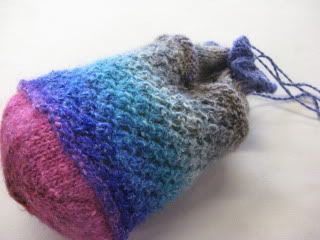 Pattern: Silk Pure from Knitting Classic Style
Yarn: Noro Silk Garden Lite
Needle: Knit Picks Classic Circ, size 3
Notes: I made this bag considerably larger than the pattern (on purpose, for once). I wanted to be able to fit a 100 gram skein of sock yarn, socks in progress, pattern, and whatever else one needs to knit socks. I think I succeeded. The finished size is about a 6" diameter, and 8" workable length - with room to close it. Aside from just upping the needle size and yarn weight, I also added length before the eyelet row for the strings. I did 8 extra rows, adding about an 1" in length.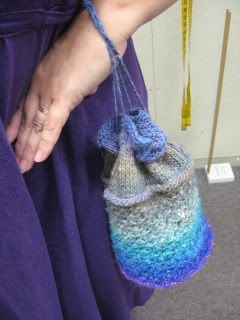 I managed to use all but 6 yards of my skein, which is how I like it! No extra stuff to store! The yarn itself is a bit stiff to work with. I has no give at all. this could be a one day knit if you had undivided knitting time. I couldn't say that I could do it with SG though. I need hand rest time, especially after all those purl 3 togs. In a nice wool sock yarn, this could be easily knit in a day, if you had too.
Blocking it was the hardest part. Finding a tall cylindrical thing with a 6" base isn't as easy as you would think. I ended up with this: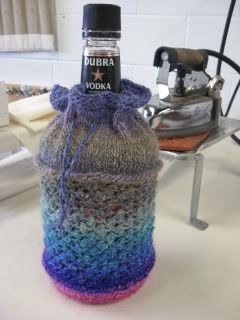 Cheap Vodka at work for the win!