Seriously. We've had a very nice and temperate summer. It really hasn't been "hot" at all. It has been muggy a few times, and kind of hot-ish once or twice, but not "oh-my-god-I-want-to-climb-in-the-fridge-even-if-I-suffocate-and-die" hot. Until yesterday. It was blistering, Hell hot yesterday. It was so hot I couldn't even fathom knitting my KAL sweater - even if it has a 'cool' name.
What to do?
I considered just sitting and watching TV, but the song "too drunk to fuck" by the Dead Kennedy's kept running through my head with the lyrics "too hot to knit" embedded. Not knitting was as bad as knitting. I needed to cast on a hot weather project.
I remembered seeing a call for donations of hand knitted socks for AIDS Project New Haven on the Nutmeg Knitters forum on Ravelry. I went over and re-read the post. They are looking for hand knit socks, to fit adults, to auction off in their silent auction. The money goes to AIDS Project New Haven and helps the local people dealing with AIDS in our community. "I can do that", I thought. I contacted the poster regarding the project- and to make sure they still needed donations. They did, and I cast on for a pair of charity socks.
I got pretty far, considering the frequent 'stand in front of the fan' breaks. The yarn is sport weight, so they are going really quickly. Also, I picked a pattern that has a ten row repeat, so you can really see the progress. Obvious progress always motivates me even more. They need the socks by the beginning of September, which is a bit close, but won't be a problem if I keep going a this rate!
I am trying to knit these socks for an "average" foot. Considering I have wee-tiny weirdo feet, I have to just guess at a good length. I went with this much longer than my foot: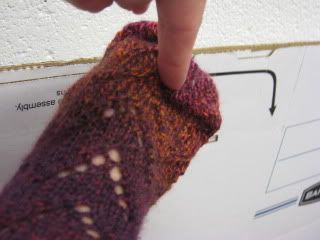 Good system, eh?
Other than feeling good about helping a charity, these socks are a bit selfish. I cast on a pattern from a 'yet to be knit from' book, thus aiding my 'knit from every book you own before you buy more books' project. Double win!