I have a lot of new stuff going on in my knitting world right now, including my Iceberg Lettuce sweater, but I have a *new* new project too show you!
Schaefer Yarn sent me another model to knit, this time in "Elaine". The yarn is thick and thin wool in "Ash" - one of my favorite colorways from Schaefer! (I love to knit with grey. I am sooo boring.) The project is a scoop neck sweater vest, woman's size medium. So far, I managed to complete the back.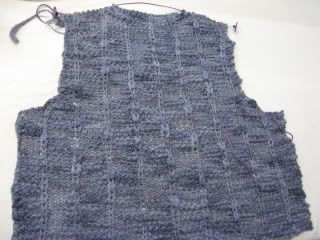 I haven't knit with thick and thin yarn before. Well, I might have, but it was so long ago I can't remember it, so I'm going with "haven't". I had an OCD moment when I started, that went something like this:
Ack! Not even! Ack! Ack!
I moved past it pretty quickly, reminding myself that the yarn was doing what it was supposed to do. I also had a problem with my gauge swatch. How do you measure it when it is so different place to place? Ack! Ack!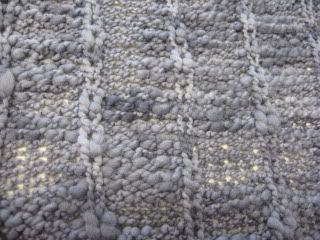 Ultimately, I measured a few places and took an average. It seems to have worked. I cast on the back, knit a few inches measured, and according to the "finished size" I am on target, so I suppose my method worked!
I'm alternating two strands of yarn, to keep the "pooling" to a minimum, which also seems to be working. (I have a good trend going here, so I'm hoping to keep it going!) The Slip stitch pattern is just enough to to to keep it from being boring, but not too much that you can't talk or watch tv. The vertical element is nice too. I'm a fan of anything that gives me vertical length, being short and busty.
Maybe I'll have a finshed vest to show you monday!