Summer is an interesting time to be a knitter. Really, there isn't much you can knit when it is 90F in the shade, with out feeling like you are laying under a bear skin coat. The loose fibers stick to you, the extra layer of insulation is unpleasant - at best, and sometimes even the fiber running through your fingers is enough to make you want to sit in the freezer. It is this time of year where I end up working on little things - also usually quick things because the idea of the yarn touching me is nearly unbearable. I finished a little sweater on Saturday that I started for just this reason.
Name: Gradient
Pattern: Seamless Yoke Sweater from Knitter's Handy Book of Sweater Patterns
Yarn: Lion Brand Cotton Ease in sea spray and hazelnut
Needles: Knitpicks Options, size 7
Notes: As per usual, Ann Budd's patterns are easy to follow, super customizable, and accurate to a fault. Unfortunately, I wanted to knit a sweater smaller than 2T, so I had to do a bit of resizing. I just combined info from other patterns with her basic instructions. Not too hard!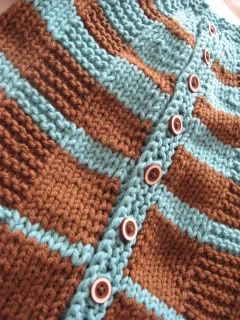 I knit the body a bit long to be a regular sweater, so I decided to dub it a "jacket". I hope it is useful to whomever I give it too. It should be warm, at least. I put buttons the whole way down the front to be a good "bundled up" type of jacket.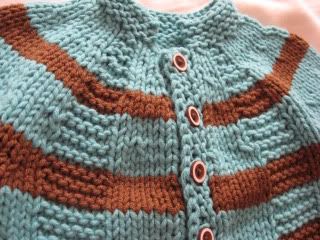 It took me a few tries to get the button band picked up "just so". It probably did not help that I was on pain pills at the time. The first time, I forgot button holes. Ooops.
Overall, I'm very pleased with my little jacket with gradient stripes. It makes me happy!