Really? Well, tech will do that to you. Time just gets away from you when you are watching dress runs. That said, I did manage to knit up a pair of socks and get up to the armholes on the front of my Dahlia, Darling sweater! Tech might suck for blogging, but it rocks for knitting!
Pattern: Frankie Striped Socks from "Vintage Baby Knits" - size 6-12 months
Yarn: Brown-Lang Jawoll Superwash Solid; Orange - Conjoined Creations Flat Feet
Needles: Knit Picks Classic Circs, size 0
Notes: Tiny socks are so cute! They are also so fast! No time to get bored! They also seem to make me use exclamation points!! I named them "tiggers" for obvious reasons, but they also remind me of candy corn, and 'witch socks'. (I think I have autumn on the brain...) Still, 'tiggers" seems best, seing how babies tend to be a tad on the wiggle-wormy side of things at 6-12 months.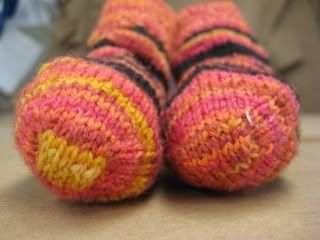 The pattern is well written, easy to follow, and generic enough that you could just use it for size and gauge info, and knit your own sock. Of course, just like with any striped sock, you have to deal with the color jogs and carrying the unused yarn up the sock, but it's hardly difficult - especially on such a small scale.
I used leftover yarn for these, and had plenty of leftovers leftover. Enough to make a stripy hat I think! I used less 50 grams of yarn, but my scale at work only goes so low, and I can't measure accurately. I do know that it isn't much.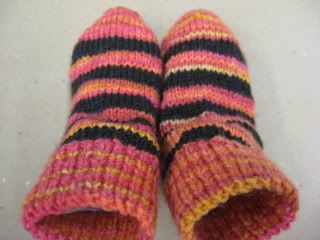 I was a bit concerned that they are too "girly" to give to a baby- to -be -of- yet -to- be- determined-gender. Evad told me I'm crazy. He'd wear them. I don't think that means much except that evad is willing to wear loud socks. But, I like them, and if i have find a baby to give them too, then they will be perfect!
In other "knit news", I am 2/3 through the front of my 'dahlia, darling' sweater. No rash has come back yet, so I don't think the yarn was to blame. (hooray!)
I have yet to cast on my KAL sweater, since I feel like I'm cheating on this one. Maybe I'll knit through the armhole shaping tonight, then cast on the KAL sweater.....