My standard answer to any question that begins, "Why do you do......" is "for fun and profit." Take for instance, my DH asked me why I'm so sexy. I answered "for fun and profit."
"Why do you always say 'for fun and profit'?"
"for fun and profit."
As you can imagine, this stock answer can often times be construed as "dirty". I don't care - as I am often dirty. (wink) However, I have to get better at filtering when I should say my catch phrase - maybe not at work. Like when the $$ guy askes why I need more Petty Cash, and I say "for fun and profit" - well you can imagine the looks and reaction. $$ guys do not have the sense of humor you'd expect.
But, "why do I knit Lace?"
"FOr fun and Profit."
Ok I don't really profit from it, although I suppose I could if I tried, or desired too. But is most definately fun!
I finished Kiri last night, and she is blocking as we ....read?
I knit this with 1.25 balls of Misti Alpaca laceweight, in a lovely Celedon colorway (oddly MA calls this "maize". I don't know, it's not yellow at all. It's green.) I used us 5 needles, and the stitch markers from my SP7. I only used markers on the edges and center stitch. (I'm too damn lazy to move makers every ten rows.) All in all, I did 12 body repeats, and the edging chart. The finished size is 66"across the top, and 33" long Center Back. I could probably get a few more width inches if I wanted too, but I like the look of the lace at this blocking tension.
I *will* take a picture after it is unpinned - I promise. I'm so notorious for not taking the arty "look at my handwork" pictures. Sue me.
Also just taking a bath is my Brothers "new" hat. He thoght the one I made him last year was too "girly", as it was light blue and drk blue marl. Umm... more manly than blue? Well, yes. He thinks light blue is "girly". SO a new hat it is. This is the most basic of hats. No pattern really.
I knit it with two strands together, size 4 needles, k2P2, ribbing, blah blah.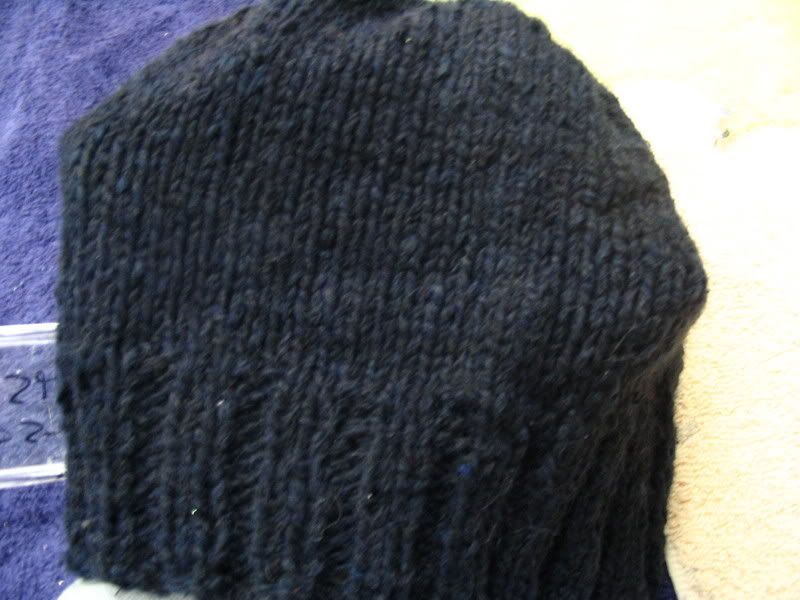 Boring I know, but the yarn is divine! It is from Hopyarn Spinnery / farmhouse yarns, midnight blue Autumn Spun. It is silk/wool/cotton blend - probably sport weight. I love HopYard! I use so much of Carol's yarn, andshe is a local - to me- company, so even better! SOft, warm, and frankly, if b#2 doesn't like it, I'll give it to someone else. It is elegant and cozy all at once. My picture really doesn't do it justice. When it dries I will take a picture on my head.
My lone project OTN is my Elfine Socks. I promised pics yesterday, so here they are. I find it hard to take pictures of my feet. Obviously.
That is all for now. Tonight I drink like it's my job. Tomorrow I doubt I will have had any rpogress on my socks. If I do, I will be, most likely, frogging back. I have learned that drunk lace knitting is not good.