Thursday saw the completion of the SotS. I couldn't be happier with my effort, and cannot wait to submit it to the Gala coordinator.
The Secret of the Stole has been a lot of fun to knit, even if I didn't participate in the "clue guessing" aspect of things. I think it is a way fun way to do the mystery element involved in a shawl like this one. I just decided not to me a group player. I don't know why. Maybe since I am not keeping this piece? I am giving it to the Long Wharf Theatre Silent Auction at the annual Gala. I hope it sells!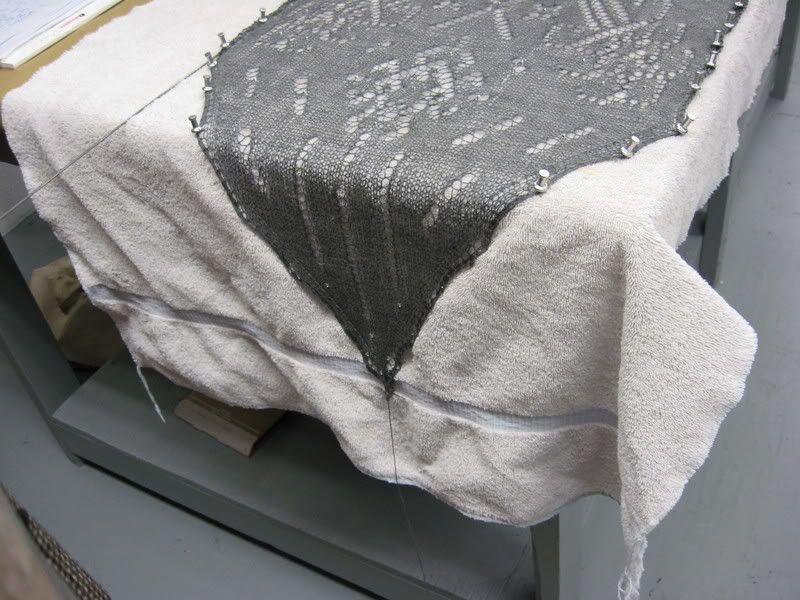 Stats:
pattern: Secret of the Stole by Nautical Knitter
Yarn: Jade Sapphire Lacey Lamb, in Charcoal
Needles: Knit Picks interchangeables, size 4
Notes: I chose the yarn color for this stole based purely on "saleability" at the Gala. I wanted something that would go with almost any formal gown color. Since the Gala is a formal event, and the people bidding on it would be so dressed, I wanted then to imagine the piece along with the dress they were wearing - or tux. (Don't want to assume anything) I didn't want to do black though, as the Gala is in June, and black feels more wintry, even though I wear it all year round. I think the steel color is fantastic, and the brighter silver beads are stunning in the body of the stole.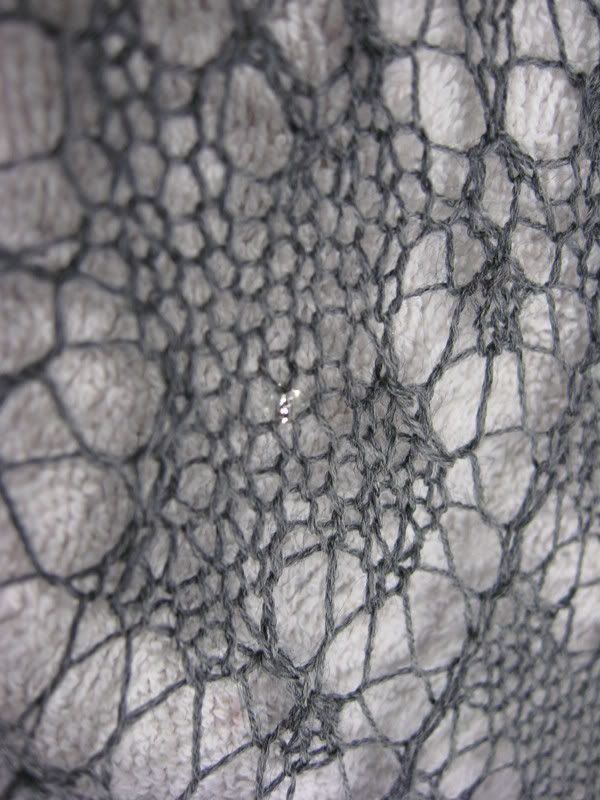 As far as the yarn goes - OMG. It's kind of expensive, but it is WONDERFUL. I t has great spring while you work with it, but it blocks like a dream, with hardly any "snap back" after you up pin it. I cannot tell you how nice it was to knit with. I only just broke into the second ball of yarn, so I will definitely make a scarf out of the rest. I cannot keep away from it. heaven.
The pattern is not a hard knit, as far a lace goes, it just takes some thinking as you work on it. Non-repeating patterns are fun, but you can't knit four repeats, memorize and go. You have to knit where you can read a chart, makes marks, set out beads... you get the idea. That said, it is not the kind of hard that requires a silent surrounding. a lot of the pattern was intuitive. You could tell the shape you were making, and could quickly see if you were off. I like that. It was a nice medium knit for me. and at 72", a good size for a stole. I couls have gotten a bit more length from it, but as you can see from my pictures, I ran out of table.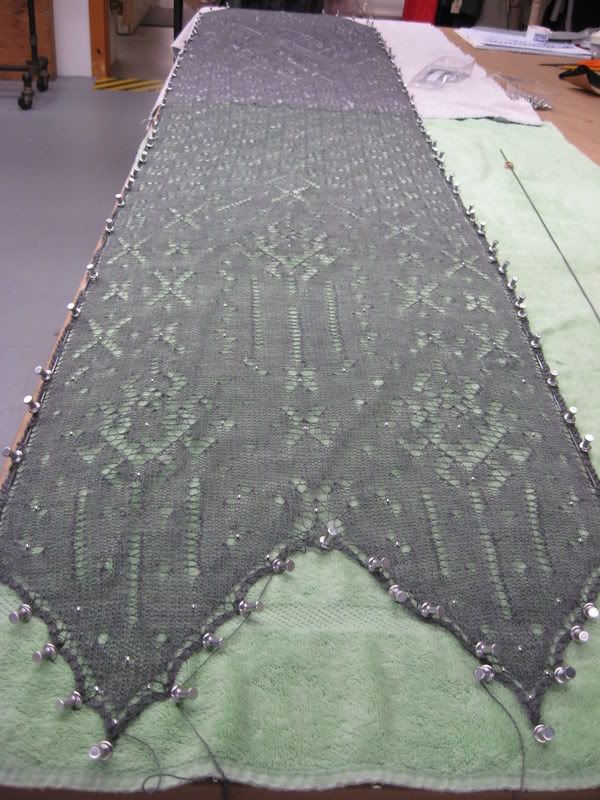 Now I just have to weave in ends! I like to do that after I block. I feel like it looks better, and I don't have to worry that I wove in too tight, and it will pull.
As soon as I'm up and around, I'll get some action shots!