Aww Hell my peeps! I got some shit DONE this weekend!
Alright. That might be a tad dramatic....
And have something to do with the fact I watched "8 mile" on Saturday night.
I'll try to keep the Big D plates to a minimum. But I make no promises, yo.
First up, Clue #6 for SotS. After the eternity last weeks clue seemed to take, finishing up this one quickly was off the hook. Sorry, I mean "awesome". ahem.
It was nice to have some uninterrupted knitting time during daylight. I hadn't realized how many weekends in a row we have had "stuff" to do all day on Saturday and Sunday. Now, I know, I went to SnB last Sunday, but that doesn't count. It was "accidental" found knitting time. I thought my parents were staying later than they did, so I suddenly found 3 hours. Not complaining, just saying.
Clue 6 brought the beads back! I missed the beads. The beads make this stole sick! (I bet Eminem never referred to and stole or shawl as "sick".) and we are up to 50" unblocked!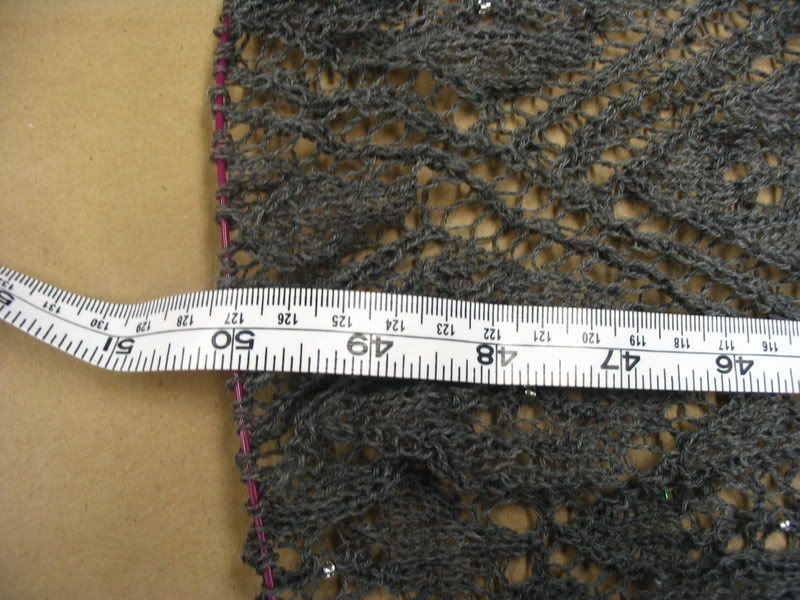 I also cranked on the Colette sweater. I finished up the fronts on Saturday, the sleeve edgings on Sunday, and the sleeves today.
If I can managed to continue, I'll be in a good place to finish this by the end of November! I'm concerned about the amount of time it takes to seam, but I guess I can just not sleep the last few nights of the month if I have to. pysnah, dog.
No progress on the other WIPs, but they are all still on the radar. After I finish the sleeves on the sweater, I have to block it, which means I have one night of "other project" time. It's not much, but at least I can have a little forward momentum.
I think that's it. I'm outy.