A lot has happened in the two days since I posted last. I got a flu shot, reached the armholes on my Colette fronts, attended SnB, AND GOT MY RAVELRY SHIRT!!!! Oh yeah! I should have taken a picture of it, but I wore it yesterday, and didn't have a camera at my disposal. You'll have to trust me, it is fabulous. Everyone at work is jealous of my "Where my stitches at?" shirt. (although, they seem to think that it should say "bitches?!" at the end, as that is much more my language pattern. I kinda agree.)
I didn't take another picture of the brown-ness. You just have to trust me. Armholes, here I come! Monday should bring something more to look at, in the way of interesting.
Speaking of interesting, I finished clue 5 on the SotS stole! It's kind of funny that the clue had two lone beads - at least to me. It was a bit of a promise that more beads are coming, and to just be patient. It is also the promise of another chart that I have to actually pay attention to. Sweet!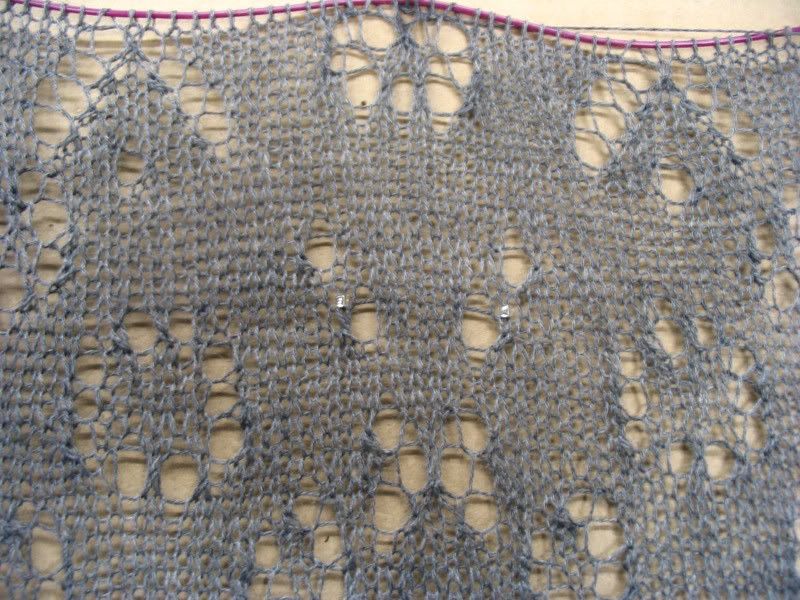 I managed to squeak this one in under the gun. I wrapped up clue 5 at 11:30 last night. I really thought I might not make it this week. Clue 6, with any luck, will be complete by Monday night. Keep your fingers crossed for me.