She is finished my friends! With days to spare! She is knit, sewn, and blocked. I kick ass.
What to say about NaKniSweMo? First off, I love a challenge. I was very excited about this one, too. I am already planning to participate next year. Next years challenge will prove to be even BIGGER! FAIR ISLE WITH STEEKS! (Don't hold me to it...) (at least not the steeking part)
To the good stuff!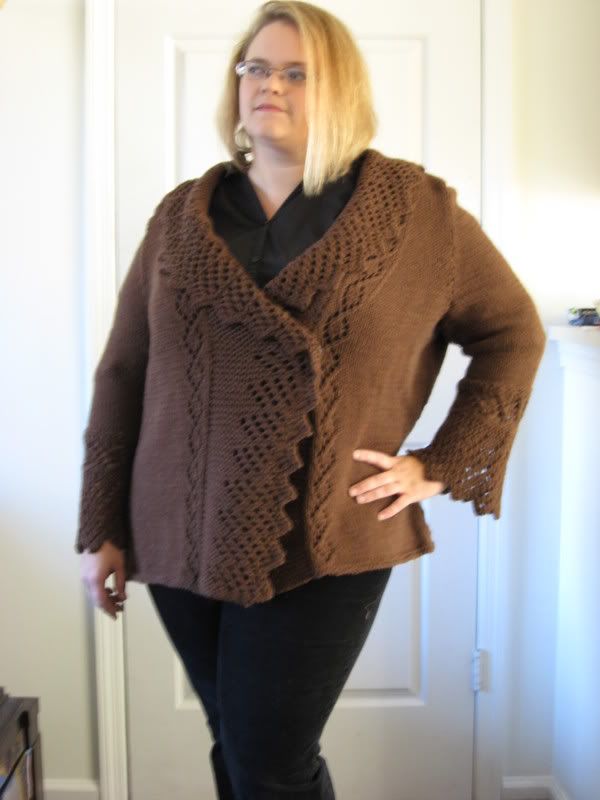 Stats:
Name: Colette, by White Lies Designs, Joan Michael McGowen
Yarn: Elizabeth Lavold CLassic Al in "aged Oak"
Needles: KP interchangables in size 8
Notes: I knit to gauge, but as true to my history, It is a little big. When will I learn to knit a bit smaller. But it isn't too big. It is comfy, and it will fit over layers, which is how I wear my clothing normally anyhow. In hindsight, I should have knit the edging shorter, so it stands up around the neck. That's ok though. I love portrait collars, and I love the way it looks on me. The brown color is a great choice I think. I am trying to expand my color range, wardrobe wise. Over all, I'm happy, and that's what matters!
The SotS is going well... only 20 rows to go! Kick ass!
I've also started the Trevor present. I am doing some free form arm warmers. Literally, I cast on, and am "doing stuff" as I go. It's got random cabling (I know, CABLES!)random stripes, seed stitch, ribbing, Stockinette - you name it. The other one is going to have herringbone, hounds tooth, and maybe a random cable as well. I decided to call them "Trevors". Hopefully, they will come out great, and represent Trevor in a compelling way.
I've got to do some yarn winding soon. As if I don't have enough already wound. But, it's not the stuff I WANT wound. I think the two bags will be next on the list. They should be pretty easy, and hopefully quick. I'm going to wind the sock yarn too, just in case. No matter how much I plan, I always change my mind any way. Oh to live in my brain. Be happy you can read the blog then turn it off.
cheers!