My kitty "Pittsburgh" died today. She was a fun loving fluffy white chicky with more sass than you could shake a stick at. She chose us to live with one day when we lived in Pittsburgh - hence her name. I don't think she ever really liked her name. She only ever responded to "Cat"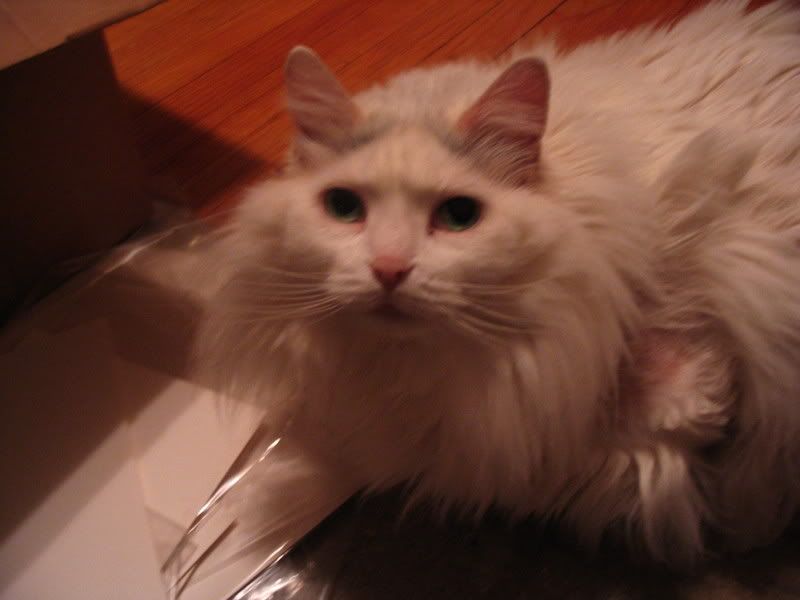 Cat was about 16 years old. Much to young to be taken away. Alas, her health problems, starting with pyrometria about 6 years ago, have taken us to this day. We will miss her a lot. So will Kitten. They might have hated each other when they first met, but they really are friends now. I feel most sad for her. She has never been the lone cat. It is going to be a lonely few weeks for her until she stops "looking" for the cat.
I wish I had more pictures of her before she was sick. I do, but none of them are on my computer. I really want to share the happy pictures with you. This one looks so sad for some reason. It was taken about 2 months ago. Maybe she knew her time was coming.
Everybody give your kitties and doggies, and fishies, and other fun petties hugs and kisses. It's hard to know they might one day be gone. Spend as much time with them as you can. Don't take a single day for granted.
This is hard for a farm girl to write. I am used to pets and animals being temporary. I really was not prepared for the kind of emotion I feel right now. We really are losing a family member that has been part of our family for 10years. Just slightly less time than we've been married. She has lived in 4 states and 6 apartments. Some of her hair has been knitted into everything I've ever made, and probably stuck into everything I've ever cooked too.
I was just thinking , "I wonder what I'll miss most..."
Maybe the way she would run over to protect me when DH tickles me.
Maybe the fact that any paper or plastic bag on the ground was "hers", and she would lay on it until she was good and done.
Maybe the immense hair wads that came off her when you brushed her.
Maybe the way she always knew I was sad, and would come over for a cuddle.
Maybe sitting on DH's lap in the car. She hated the carrier, but was happy on lap.
Maybe it'll be the way she stared down a Buck in Michigan.
Maybe her Mouser instincts.
Maybe her aloof way of laying on the floor with her paws crossed.
Maybe.
I have a feeling it'll be the kitty head butts when she wanted to be petted or given a snack; and the rubs on the legs. Kitten never really figured out rubbing. I'll surely miss that.
Bye Bye Cat. I'll miss you.