Summer is so weird. I have so many vacation days to take in the summer - not that I'm complaining about how many vacation days i have - I'm hardly at work. Since DH and I do not have Internet at home, I really on my lunch and breaks to post on my blog. Since I haven't been at work too often, I haven't been posting too often. It's sad really.
I had a great time with my parents this weekend, although I was ready to see them go on Sunday. My mom especially, gets a "great idea" about decorating, then she finally leaves and you have none of the furniture you started the weekend with. ok. I'm exaggerating. In reality, I asked to borrow her carpet steamer to clean my living room furniture. When she left, I had cleaned furniture, slip covers, new pillows and blankets for the couch, a new rug in the living room, matching covered dining room chairs, new rugs in the bathroom, new sheets, replaced knobs on the hall closet, and replaced screen in the sliding glass door. It's good it was only 3 days. If she was here a week I'd have an addition on my condo.
Because of the "renovations", I didn't get to start on my Mystery Stole until Saturday Night! I cannot tell you how hard it was to wait. I finally cast on at around midnight, and promptly did the first chart. I forced myself to go to bed. Sunday yielded little progress, although there was some - it was filled with recovering my dining room chairs and replacing my screen door screen. Yesterday I finished clue #1! OMG I LOVE I SO FAR!!!
It isn't pinned out very well. Push pins do not stay in the couch cushions at all.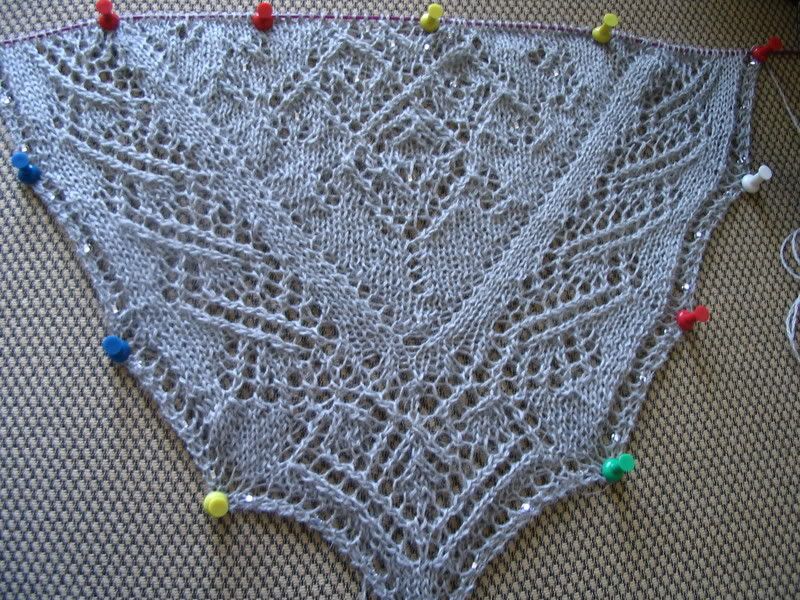 This is the border
The center motif is taking shape too.
You can hardly see my beads, as they match really well. It's ok though, I like them IRL. I am using a slightly larger beads than the designer, Melanie, calls for in the pattern. I was a tad concerned about it going in, but I actually like the size of them now. You'd never even know they were a a bit bigger unless you held them up to the smaller ones. Over all, a very good clue #1.
Since I had a day off, with no parents, and no moving to do (!) I decided to go shopping yesterday. "for what?", you may ask. "Why yarn of course!" Don't be silly.
At Dagmar's I picked up some sock yarn.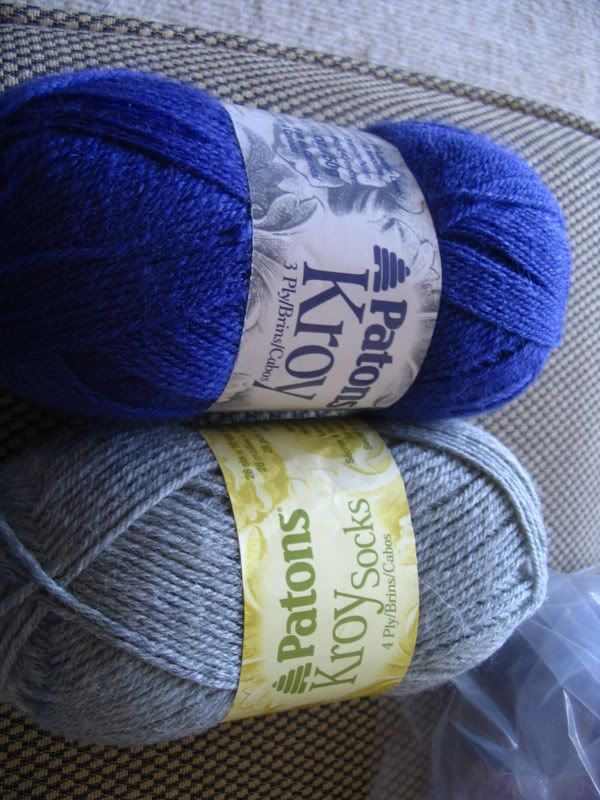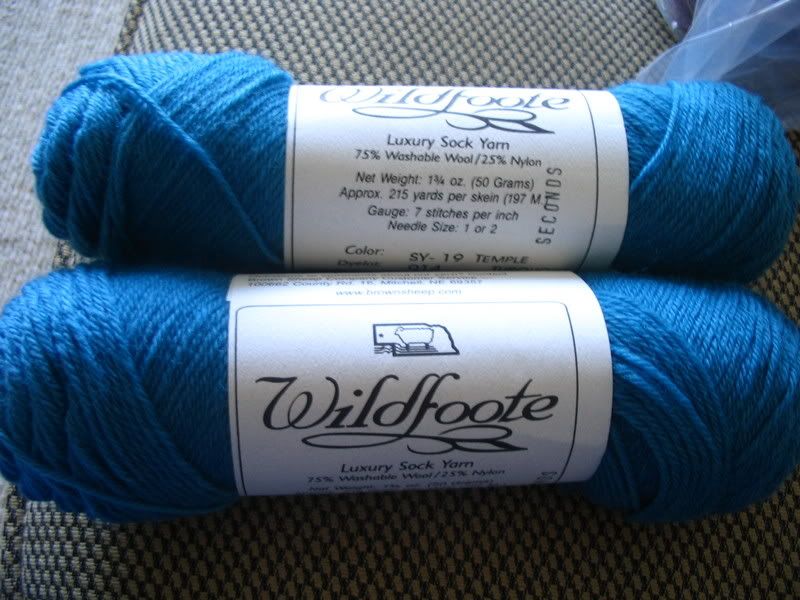 I have an itch to do some more color stranding, and thought the Kroy would work well. The bright blue was too much to resist.
Then I went off to Saybrook Yarn, and bought some of their clearance bags!
Two full bags of Cascade Pima Tencel. One in red and the other in purple. I think I have a plan for the red......