I decided to post this quick, before I left for Vacation. I finished it last night - mostly at SnB, but I still had a good chunk to seam when I got home. But, it is complete! And in time to wear on my trip!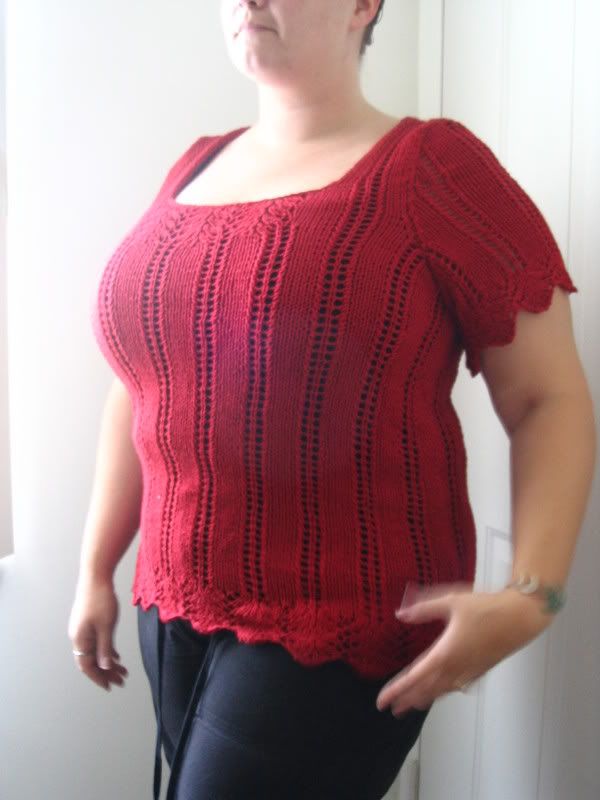 Pattern: Shaped Lace Tee (krista) from Knitting Lingerie Style by Joan McGowan-Michael
Yarn: Cascade Pima Tencel - 6 balls
Needles: KP interchangeables, size 7 and 5
Started: July 6
Finished: July 19
Notes: Out in cyberspace, there is pattern modifications to make a "traditional" short sleeve, as opposed to the cap sleeve written in the book. I followed the short sleeve mods, and I like the result quite a bit more than I would have if I had followed the cap sleeve instructions. I like a longer sleeve on myself usually. Other than that, no changes except the yarn sub! I also (no surprise) put off the seaming for 3days. If I had just bucked up and seamed the thing, I could have been finished on the 15th. When will I ever grow to love seaming?
As a side note, my seaming isn't too bad on this one....
MS3 clue #4 came out today! Yay! Beach knitting!
See ya'll in a week or so!