I have made it back from my trip- all in one piece - go me! I have so much to share, I can hardly wait!
First, a project update:
Mystery Stole #3 - clue #4 complete. Wee! Clue 5 is supposed to reveal the theme!!! Friday is sooo far away!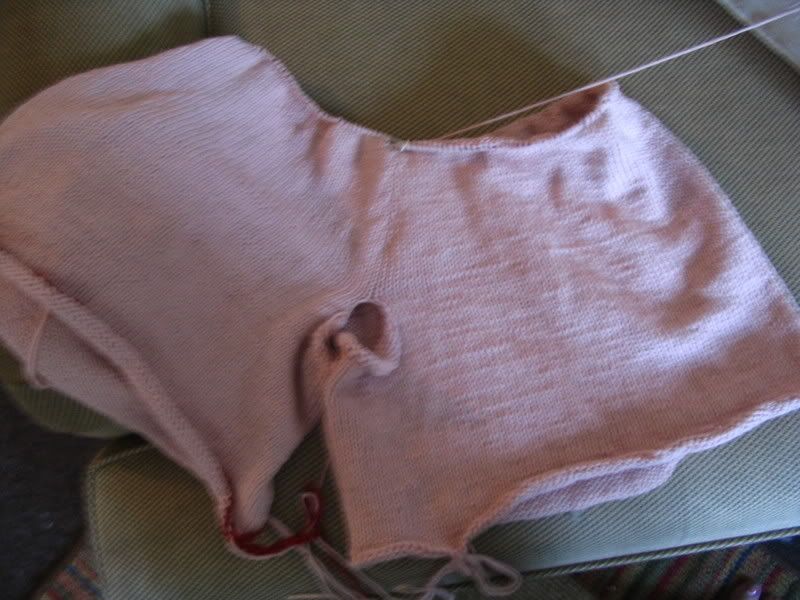 My "Unmentionables", i.e. petti pants. I have finished the waist decreases, and am working my way up to the waistband. Good beach knitting, btw. Didn't have to pay much attention at all to this project. I took 3 skeins of yarn with me - out of the 8. I was right on target. I left my vacation with only about 1/4 skein left. I'd have felt a bit dumb if I ran out or brought way too much. I love my stash, but it does not need to go on vacation with me. If I miss it, I'll add to it.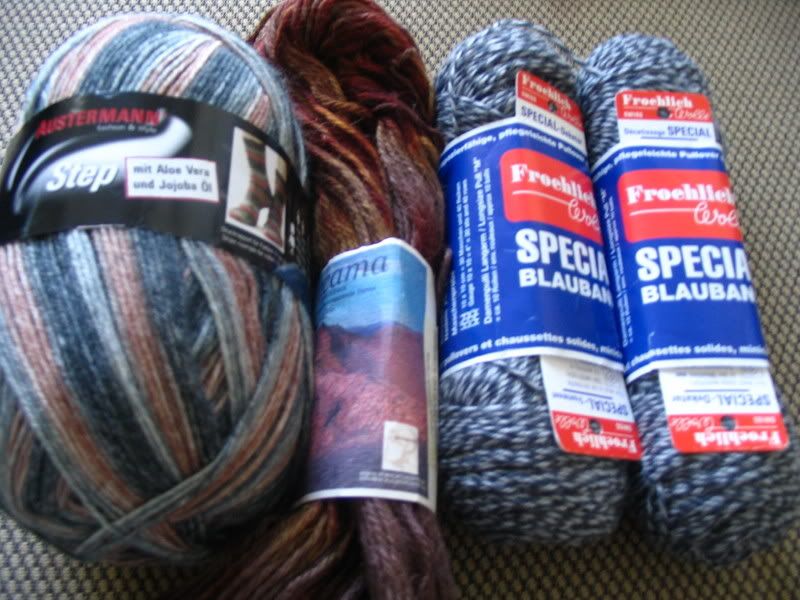 And, add to it I did! I managed to not buy yarn for 2 weeks, and treated myself at the yarn store in Ocean City. I got 2 skeins of Froehlich Woole Special Blauband for socks. It's a good old school sock yarn. I have some vintage socks I want to make from it. I also got Austermann Step with Aloe. This might be for DH's Syncopation hat. He's a little unsure about the aloe. He doesn't think his head needs anymore moisture than it already has. The Atacama Alpaca is the back up yarn. Either will work, but I hope the step works best. I think Alpaca will be too hot for the walking furnace that is DH.
The yellow needles are from an antique store. I saw an article about making bracelets from old knitting needles. I can hear people fainting at the idea of "ruining" a pair of vintage needles to make them into bracelets. Sorry, but I don't use straight needles, and I love jewelry.
Now, some vacation highlights:
Day 1: Drive to Ocean City New Jersey. This should take about 3.5 hours. It took 5. we sat in immense traffic. I was worried that our room would be absconded with by some other family member. DH said that it wouldn't happen. Whoever wanted our room would have to be able to move him to get it. (We got our room) Somehow, everyone got stuck in traffic, and we still ended up being first to arrive. Usually we all arrive around 11am - 12pm. We didn't get there until 2. We were STARVING. My mom and Dad came next. Cool... except they didn't have the food with them. They only had luggage. My brothers had the food in their truck. We went and got lunch. Till we got back, the rest of the clan was there. all 14 of us!
Day 2: Church. at least DH and I didn't spontaneously combust. We high tailed it back to the house and went to the beach!!!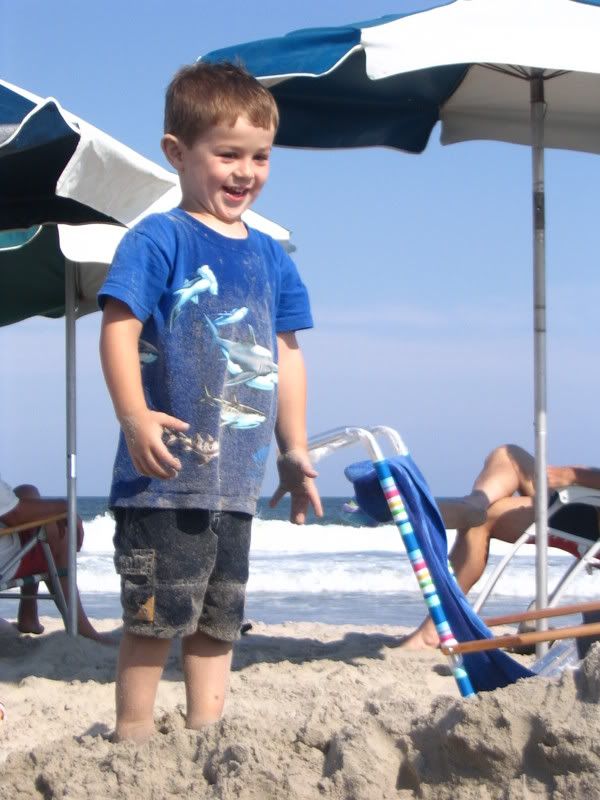 Kaiden was in love with the sand and the art of digging holes. Last time he was at OC with us he was 1, and afraid of the sand and water. He wanted nothing to do with getting any sand on him at all! Not so much this time. Kaiden is the most talkative and kind 3 year old boy I've ever met. What a sweety my cousin is raising!
Day 3: Rainy day. DH and I went to the yarn store, and the antique stores on Asbury. Asbury is a little downtown shopping area. We had a good time looking around - and it wasn't too hot! By the late afternoon it cleared up, but it was too late to beach it that day. we spent a lot of time just hanging out with the family.
Day4: Jet Skiing! Aside from the scary video, lots of fun. No forced water entry. (grin) Then off to the beach again!
My Brother David and his girlfriend Kate buried my other brother, Mark. Of course they drew boobs on him.
Mark and Megan found a crab for Kaiden! He named it Mr. Krabbs. Guess what show he likes?
Day 5: Mom and I went to the nail salon. Mani and Pedi time! Then we went shopping. we love shopping. we considered sending for reinforcements to take our packages back to the house so we could shop more, but decided not to. If we wanted to get any beach time in that day, we had to cut our shopping trip short.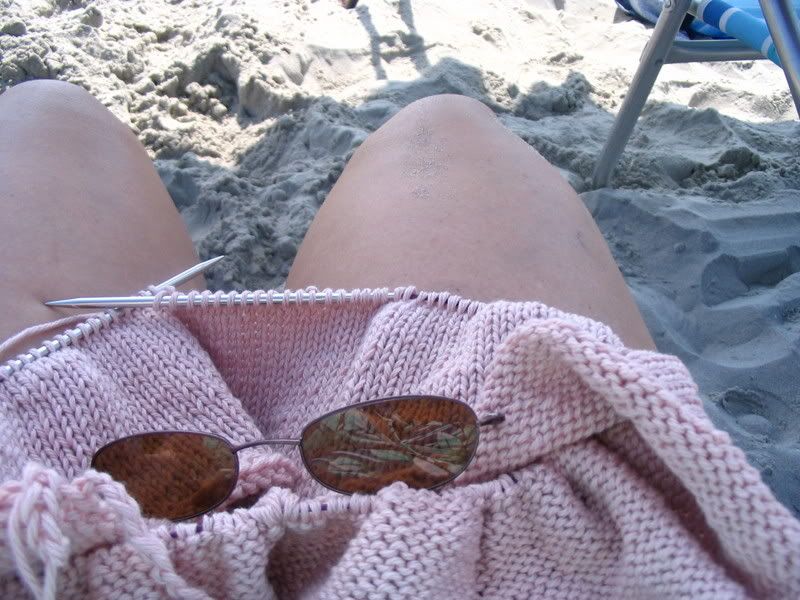 I officially attached the legs together on my Unmentionables today!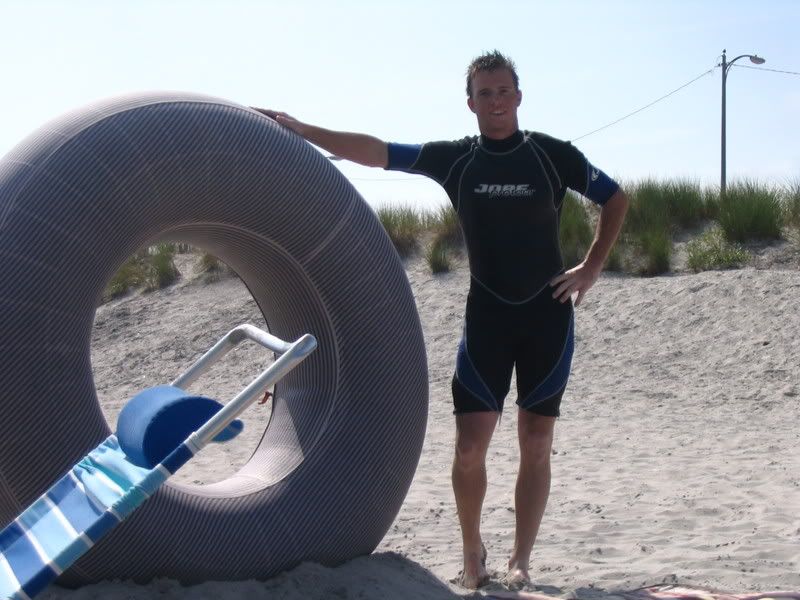 Mark is the tube man. My family has brought a tractor tube with them every year for 25+ years to the beach. Lots of families used to do this, but we seam to be the only ones left that still do. Why is it beige and striped? Regular black rubber inner tubes cause "tube rash" - basically a rash from rubbing on the rubber. To prevent this my mom has come up with a way to cover the tube with canvas, thereby reducing the tube rash. The cover also seams to help prevent holes. Our tube is about 5'5" across, and has held up to 10 people at a time. You should see the mouths drop open when they see this big striped tube headed down to the water.
DH and I enjoyed our seafood night. I don't like the one traditional meal my mom serves - corn soup. We go out to eat on Corn Soup night every year - usually for seafood. mmmm. This year we chose wisely.
Day 6: the last beach day. we all were up early, and headed down to the sand as soon as we could.
Our biggest house full reached 24 people. This line up is small in comparison. We are really good at forcing other beach goers from our midst. We take up lots of room, and have lots of stuff. We also dig really big holes, which means large sand piles.
Kaiden really liked jumping waves with his mom.
I really liked watching my Dad on the tube. I didn't get any pictures of me on the tube, but I can tell you, I had fun!
Day 7: Time to pack and go. :( We said goodbye to the Kentucky family, and the Pennsylvania family. DH and I decided to spend a few more hours on the boardwalk. It doesn't really matter what time we leave. Going across the GWB is a nightmare anytime of day. OC's boardwalk is a great old fashioned boardwalk. It is 2 miles long, and filled with food, souvenirs, and games.
We make the trek every night, since night is the best time - all the lights are amazing. We had all our favorite treats - Cotton candy, funnel cake, salt water taffy, Mack and Manco Pizza, Boardwalk Fries, Frozen chocolate bananas, Johnson's Carmel popcorn, and Khors Brothers custard. All of those treats take me back to being a little kid. We got home to CT around 7pm, with a stop for dinner. Our clothes all smell like OC, and I love it!
Some yearly vacation constants:
No matter who comes, or how many of us there are, we always do a few things. 1. Bring food for Breakfast, Lunch and Dinner - and snacks. We only eat out for our "boardwalk snack" each night. 2. We say 1 block form the beach and boardwalk, and never move our cars - unless it is to move closer to the house. 3. Bike riding on the boardwalk in the morning is awesome, and bike riding around town all the time is the norm. 4. Someone always has to sleep on the porch. 5. We see at least one movie - this year it was the Simpsons.
That's it! If you made it to the end of this Post, congrats!