Do you know this song? It is an old favorite in concert band. duh dunt duh dunt dad, dunt da dah!
or how about "Fascinating Rhythm?" "Fascinating Rhythm, got me on the go!"
Band Geek Flag flying high today. I've had a weird combination of these two songs running through my head since last night when I finished my hat:
I was a little concerned that the purple wouldn't show up enough on the rainbow background, since there is now much contrast. I think it is subtle, and kind of nice. Way to pastel for my taste, but it will make a nice gift. For who? Don't know. I'm sure I'll need one though.
The Details:
Pattern: Syncopation Hat form Interweave Knits Summer 2007
Yarn: Jojoland Melody, colorway Y104 (the rainbow part) and Jaeger Alpaka Pur "Lt Grey"
Needles: Clover (?) Bamboo DPNs, size 2
Notes: This pattern called for Socks That Rock. I have never even felt Socks That Rock, so I looked to the stash. The Jaeger is left over from the Glasgow Lace sweater from last fall - it took a little over half a 50 gram ball for this hat. I chose the Jaeger because I still had two more balls if the one partial ball wasn't enough. Turns out, it was plenty. The rainbow yarn came from a swap. I've been eyeing the jojoland on Ebay for about a year. I've never ordered it, since shipping two balls of yarn seamed dumb when the deals on whole bags were so much better. I digress. I added this to the stash about a week ago, and decided that it wasn't to be socks - it is not superwash. I am not worried about not washing and drying my socks, but DH cannot be trusted. Since I have been aching to knit a bit of stranded color work, and I remembered this hat was in IK, my project fell into my lap. In case you are wondering, I still have half of the ball of Jojoland left too.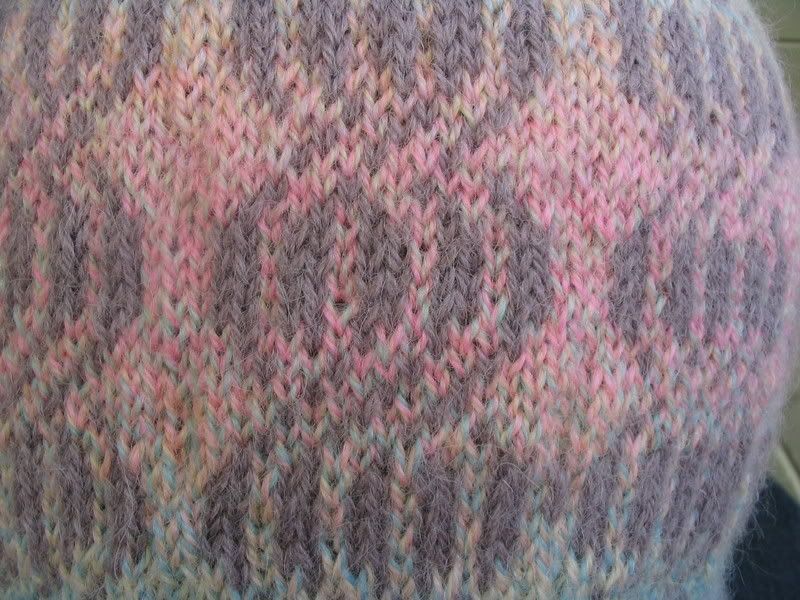 The hat is much stretchier than I thought it would be - being stranded and all that. I made the women's size, guessing that it would be a bit tight since I am pretty new to color work, and newbie color work people have a tendency to knit too tight. I popped it on my head last night, and it is not tight at all. It's not too big, but it had "bun room" - a plus since it is my hairstyle of choice. It also fit snugly when I had my hair down - also good. I could make my tiny head the kids size, and still have "bun room" because of the give. Just for kicks, I had DH try on the hat. He has a monster 25" head. I kid you not. It fit him! Now, it was a bit too short, as the extra width of his noggin took up the length of the hat, but he could get it on! This is good news, as I want to make this hat for him, in more DH-like colors. I won't have to adjust the pattern or yarn size for once!
(The colors were kind of nice on him, as he is dark haired and has a darker complexion. He still doesn't want a pastel rainbow hat. oh well)
My only regret in using the light purple Jaeger is that it blended too much at the top. You lose the cool spirally thing it does as the hat decreases.
I'm still working on DH's Dura Eupora scarf -in my head mostly. I've done a bit of research on similar knittng techniques, and plan to give it another go soon. When I make his Syncopation hat I would like it it coordinate with the scarf, since, at least in theory, they would both be wearable this winter. This is the problem - (I can't believe I'm going to type this) i don't have any yarn. ok I have yarn, but he doesn't WANT a pastel rainbow hat. I'd like to get a soft tan / warm grey yarn, and use black as the contrast. His new winter coat is brown leather, and the scarf yarn is a light tan/ grey color. I'd like them to at least kinda go together. I have the black yarn. I just need the tan/grey. Of course, I have no time to go to the yarn store before I leave for vacation on Saturday, or this would be my "house project", as Kelly suggested. I just can't be sure that the little yarn store in OC will have what I am looking for.
What I am leaning towards this minute:
Beach: the petti pants. Questions be damned! or maybe I want ot work on my gloves....
House: "We Call Them Pirates" stranded hat. This would be for me. I need to see if I have yarn for this still. I think I do..... and my Mystery Stole 3. I can take the Syncopation pattern with me, then if they HAVE the yarn, I would be all set..... hmmm
SNBers - be prepared for me and my ton of options tomorrow. My planets must be out of whack. I usually pretty decisive...