I've always been the kind of person that ate their least favorite candy first after Halloween, saving the "good stuff" for last. I did my least favorite homework first - usually math- and saved the reading until the boring stuff was done. I use up the plain instant oatmeal first, and save the apples and Cinnamon for last. If I clean, (notice I said "if") I do the worst task first - the bathroom. I have always been like this. I didn't realize i was like this in knitting, until I went to knit this sweater.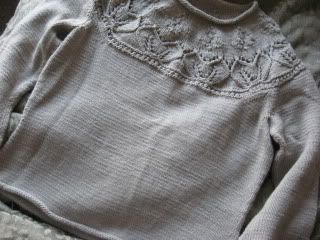 It shouldn't have been, but it was a total surprise that I enjoyed knitting a sweater that had all the boring stuff at the beginning, and saved the "good" stuff for the end. It was like a huge bonus for getting through! The body and sleeves are knit in Stockinette, flat. Then, you seam the raglan bits, pickup some stitches, and knit the yoke in the round. Now, because I like to get all the boring stuff done first, if at all possible, I did all the seaming before I did the yoke. Oh how the yoke was sweet, sweet reward!
Name: Watercolor
Pattern:Yoke Detail Sweater by Debbie Bliss
Yarn: Fiesta Naturalle Wool in Dyer's Bugloss
Needles: Knitpicks Harmony size 6
Notes: This pattern was well written, and frankly, really easy. The only change I made was to knit nupps on the yoke instead of bobbles, and I did one more set of decreases. Aside from being a PITA, bobbles are weird looking on grown up clothing to me. Accessories - fine, but sweaters? Nah. The neck, as written, was kind of a boat neck, but I thought the intended recipient would like a crew neck better, so a little more decreasing, and voila!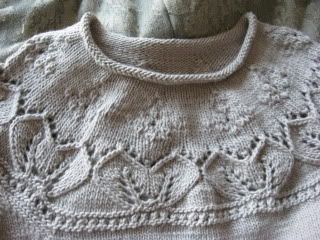 The yarn is really nice to work with. It is soft, and lofty - so smooth. I can't say anything poor about it! I choose it for this sweater because my brother's fiance is in school for Zoo science, and always concerned about animals and environmental impact. Fiesta Naturalle is dyed with natural, plant derived dyes, with minimal impact to the environment - something that I knew she would appreciate! I plan to include a label for her, not only because of washing instructions, but also because it has information about the plant, and the earth friendly processing!
Overall, I'm very pleased with this sweater although, I randomly guessed on the size, so everybody cross your fingers!!
edited to add: Yeah totally not going to fit her. I am instead giving it to someone else, and knitting her a different sweater. More on that next week....