I'm right aren't I? It's not just because I made them either. They are adorable because they are wee, and the little toes that go in them are wee. It's a conspiracy.
Pattern: Baby's First Socks, by Ann Budd
Yarn: Left over Trekking and Regia
Needles: Knit Picks Classic Circs, size 1 and 0
Notes: Aside from the fact that these socks are too cute to resist knitting, I do know a few ladies that are cooking up some babies right now. Totally awesome for me, mind you, as I have little baby knits to work on - great summer knitting - small, light, and quick! I'm not sure who they will be for, but I'm sure the mommy and baby will love them as much as I do.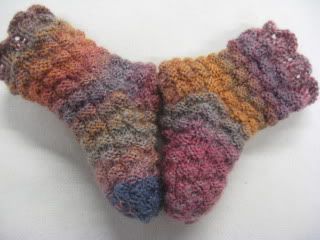 I knit one sock with a contrast toe. I can pretend that it was on purpose, but I'd be lying. I ran out of yarn. That's what you get for using left over yarn. Anyway, I pulled some regia out of my left over bin, and finished sock #2 with that. I like the look, frankly. I liked it even more after I embroidered the wee little heart on the toe. Both yarns are superwash, and dryer friendly - go knitter!
When I cast on for the booties I started on 1's, like the pattern called for. They seemed a little too big, so I went down to 0's after the first pattern repeat. Now they flair at the top. I'm calling it a design feature. Besides, babies have chubby legs, and little extra flair can't hurt.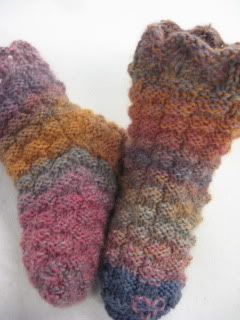 What you have to know if you are going to knit these:
They have a shit ton of purling. I don't mind it, but if you do, these might not be the socks for you. Also, the heel and gusset construction are different from normal, and the instructions for the heel/gusset and toe are written out - line by line- since you are decreasing in pattern. You have a lot of pattern following to do. It's not hard knitting, just "pay attention" knitting. Oh, and Ann Budd - Three needle bind off for the WIN!