It's not really a Hobbit's story, but I was gone! Then I came back! I went to Kentucky to my cousin's wedding last week, and just didn't have time to update my blog before I left. I have two FO's to show you, that I finished before I left, and three more I started since then. At least 12 hour trips are good for something!
I suppose I will start with the oldest FO today. Not this past Friday, but the Friday before that, I finished my Wiccan sweater!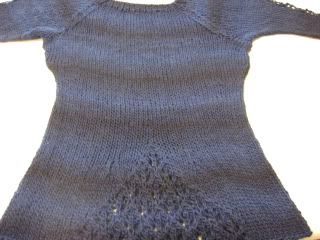 Name: Wiccan Sweater
Pattern: Niobe: Lacy bell-sleeve pullover from French Girl Knits
Yarn: Gedifra Fashion Trend Color, 6 balls
Needles: Knitpicks Options Interchangables, size 11
Notes: This was a really quick knit. Wow. 7 days quick. Big yarn and big needles are fun sometimes! Of course, I have to wait until October to wear it, since it is crazy warm, but that's seems to be the way the yarn barfs. Sigh.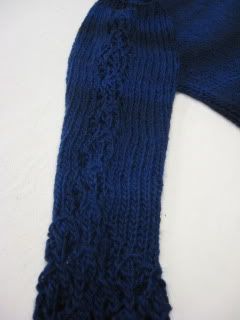 I knit the largest size in the book, and did not add any length or short rows to the bust because I was really worried about having enough yarn. I'm glad I didn't because I *just* squeaked in under the line. I have about 6 yards left, and tails. I really did knit this sweater on the edge. (Ok. The proverbial knitting edge, but it's still an edge) I had six balls of yarn, no clue as to the dye lots, and no clue of the yardage. I wasn't even totally sure they were complete balls. I bought the yarn on clearance at A.C. Moore about 4 or 5 years ago - pre understanding dyelots. I liked it, but had no idea what to use it for. Along came the book "French Girl Knits", and I knew I had a match for my yarn!
I
maybe
should have mixed the yarn together as I knit, just to make sure it all looked ok together, and wasn't a dyelot travesty, but I didn't. (Edge - remember?) All in all, I think it turned out pretty nice! There is a dark spot in the yarn at my smallest place on my torso, making it look even smaller (bonus!) The stripes aren't as stripy as they appear in the photos, which is awesome, and the sleeves blocked longer to accomodate my monkey arms. Sweet!
The lacy bits are fun, and not too involved, making this a good "second sweater". Unless you know how to read a chart or have knit other lace in the round, I wouldn't choose this as a "first sweater". The pattern does assume that you know some things about lace and sweater construction. It's not hard, but it doesn't hold your hand either.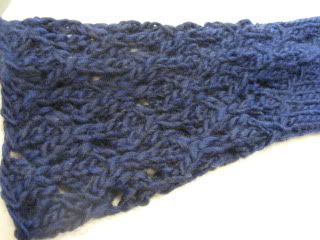 Did I mention that it is seamless? Oh yeah.... no seams, baby! If you did this in 100% animal fiber you could spit splice all of your joins, and only have 4 ends to put in! This is my kind of sweater construction.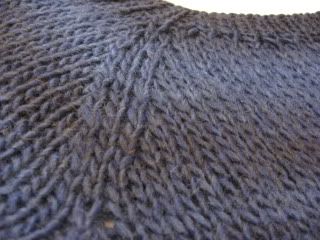 I didn't get any action shots for you, but I can tell you that it fits great! Knitting by the seat of your pants worked for once! If I could always be so lucky.