I realized this morning that I took pictures of, updated my Ravelry project page on, and *thought* I had blogged about my Aeolian Shawl. I did the first two, never did the third.
Shame! Shame on me! Bad Knit blogger!
So, today I am posting a much belated post about my Aeolian shawl!
Name: Aeolian Shawl
Pattern: "Aeolian Shawl" from Knitty.com
Yarn: Schaefer Yarn Company Andrea in colorway "Ash"
Needles: Knitpicks classic circulars, size 3
Notes: I knit 6 of pattern 1 (yucca), 1 of pattern 2 (agave), and the edging. (Of course, all the appropriate transition charts included.) I was going for something in between the small size and the large size. I think I did pretty well!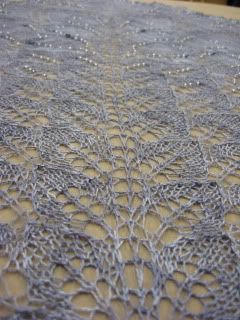 In my last post about this shawl I said the yarn was like knitting with Angel farts. I firmly stand by this statement. I really is. It is so light and fluffy and smooth and shiny and down right awesome! I switched back to wool for my next project and it is like knitting with barbed wire in comparison. The color is great too. Just a little variegation, and a nice warm purply grey. Beautiful!
The beads were really loaded on this pattern. I cut out the beads on the first 5 yucca's, and still went through a billion! (Maybe not a billion, I might be exaggerating.) Still, It was two packs worth! Most of the beads are in the edging, which took a hell of a long time. Row 42 of the edging is BITCH! A beautiful, ass slapping, mean bitch - but totally worth it.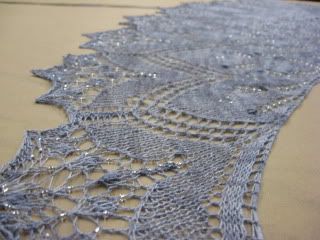 Normally, I like to say things like "it wasn't as hard as it looks" or "This is a great pattern for a first or second shawl" at this point. I am not going to say that about this one. Don't get me wrong, the knitting itself is pretty easy - all standard stitches, well explained in the key, but the executing was at least intermediate. Lots of slipping stitches, placing a bead, slipping it all back, twisting K3togs. It is a knit that requires some patience, and a lot of chart reading.
The over all shape of the shawl is wonderful. The curve of the top edge is great to wear. It doesn't bunch at the neck, and the curve keeps the sides firmly down in front of you. I wore it to two formal events in two weeks, and had nary a slip off the shoulder - with no pins or clips. (the second one even involved a bit of drinking) I am sold on this shawl shape!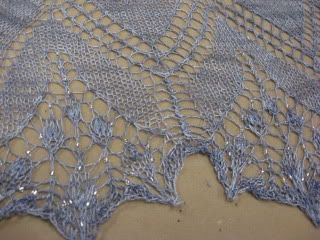 Currently, I am plodding through the Fountain Pen Shawl for Interweave Knits. It is down right dull after this one!