DUuuuuuude.
Dude.
Dude!
Dude... we have achieved Vest-age!
Totally.
Pattern: #109 Elaine Scoop Neck Vest
Yarn: Schaefer Yarn Company Elaine, 2 skeins Ash
Needles: Us 10 and 9 knitpicks options
Notes: Wow. Quick knit! I knit the back in two easy going evenings, the front on Friday, seamed and knit the waist band on Saturday, and finished it up in a couple hours on Sunday! Not too bad. Overall, it might have taken me 20 hours to knit this vest. That, my Friends, is my kind of knitting!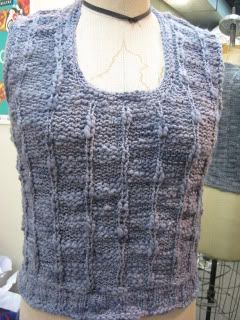 I knit the medium size, which is 38" finished. Just for fun, I tried it on. It is a bit short on me (by a lot) but it does go over my copious boobage. SO, it has a lot of stretch! If I were knitting it for me, I'd definitely do a size with negative ease for a nice close fit.
It is quite an easy knit, advanced beginner, maybe? You have to pick up stitches at the NL, WB, and AE to finish, which seems a little harder than beginner to me. I could be wrong though. I'm not good at judging what it "hard" for other people. Every one's scale is different.
Like always, the colorway is beautiful, and the yarn was really soft. After I got through my learning curve with the thick and thin yarn, I didn't mind the texture so much. The bonus to the highly textured knit surface is the "sin hiding" factor. Picking up stitches can sometimes be a real bitch. You get holes and lumpies, or tight spots and pulling. You really can't see much in the way of "perfect" or "not perfect" with the Elaine! It just is. I liked that part very much!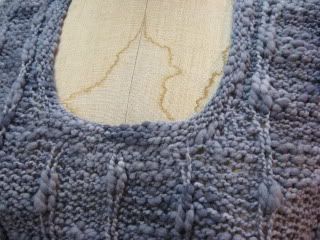 I don't know if I'd knit this again for myself. It's not really my personal style, but I enjoyed the process of knitting it, so I'd consider it for a gift. It is fun to knit outside of your "normal" box once and a while!