In case you were wondering, my Mom controls the weather. She just concentrates, and moves the snow away, or holds off a thunderstorm until after the wedding. I know this because she has been able to do it all my life.
Evidently, she has done it again. It has been 70f in CT recently! A high of 72 on Saturday!! In January! I like it warm. My mom knows that. But she must have also known that I wanted to wear my completed "Emerald" today, because it is 30F outside right now. Tomorrow she can jack it back up to 70F. (please.)
Wait! What was that? You finished your sweater?! Where are the pictures?!
They're coming... be patient...
tap tap tap
ok. Here they are. Sheesh!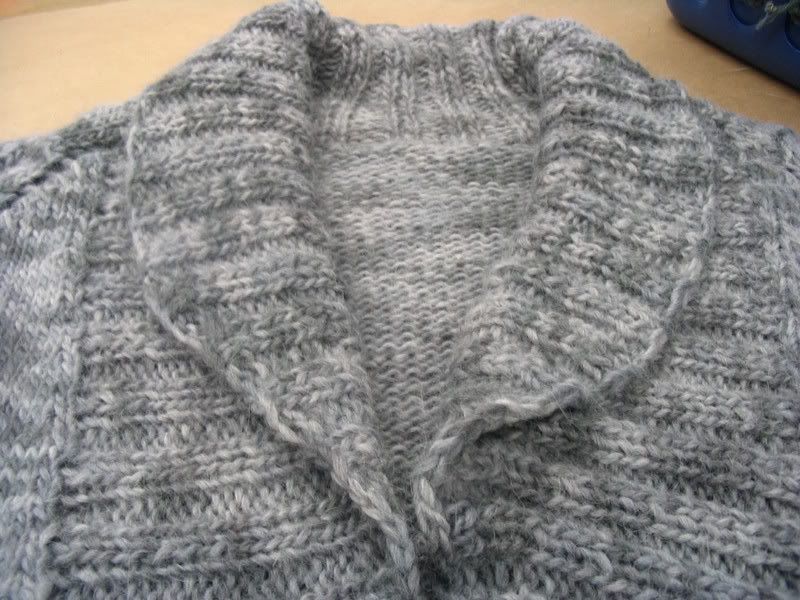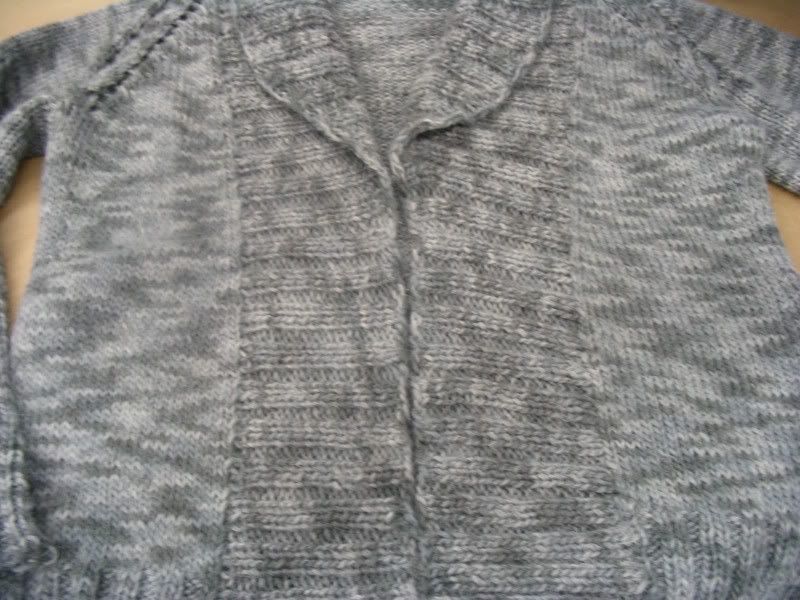 This sweater is hard to get a full front picture of, and not get lots of backround crap in the way!
On to the details!!
Pattern: "Emerald" from the Winter 06 Knitty
Yarn: Cervinia Londra, Charcoal Heather Colorway
Needles, KP options size 10
Started: 12/28/06
Finished: 1/7/06
Changes: I knit this sweater with out a button and button hole because I look down right awful with a button closure located where the pattern calls for the button to be. I considered placing more than one button, or lowering the button. I thought about snaps, or hook and eyes. I finally settled on no closure. I rarely wear my sweater closed anyway. I took a bit of a hiatis from this project while I decided on closure-ing, well, and to finish my Socktopia socks for January. The only other changes I made were to make the sleeves longer (I have long arms for my height), and to make the collar and button band wider. I wanted more coverage in the front than the picture in the pattern, and I wanted the front edge to hang straight. The ribbing at the hem pulls the sweater in a bit, and I wanted to counter that.
Overall, a very fast knit, well written, and very easy to wear. I've recieved lots of compliments today on my sweater, and even a good one that the person who said it didn't think was good. My one coworker said, "Oh it's finished! I love it!" to which the other coworker, whom I was just speaking with, spun around and said, "Oh my Gosh! I didn't even realise you were wearing your new knit! It looks so much like what you always wear!" Then she got all back peddely, and said that she meant that it looked store bought... I knew what she meant. I think that that is a great compliment.
I've made you wait long enough. Here is the obligitory blurry picture in the mirror shot. Heaven help us all.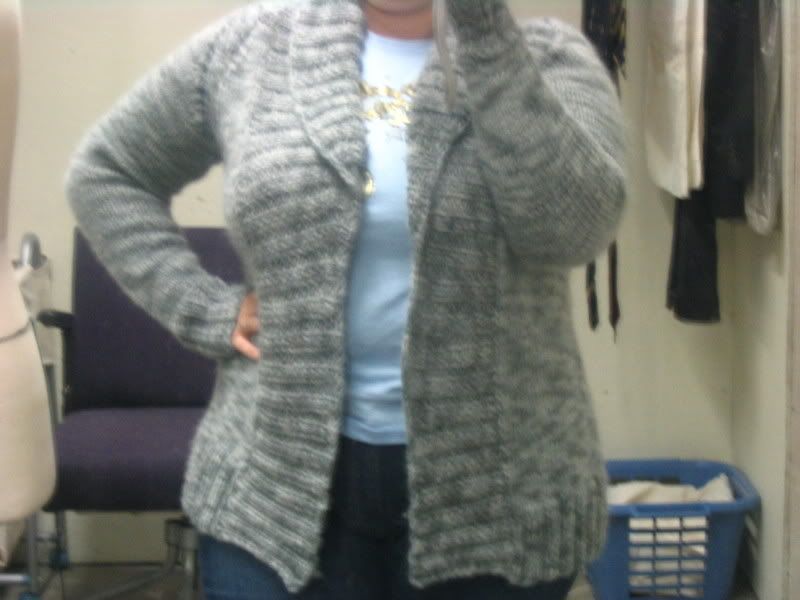 it is so hard to take picuresof yourself! The collar is all turned weird, the hem looks uneven. trust me, it's a lot cuter in person. and less blurry.'
btw,
To explain the Mom and the weather thing:
Growing up, my brothers and I never watched the news, like most kids. We would bemoan going to school, and wish for snow days. My mom would say things like, "sorry, you'll have to get up, I'm not letting it snow tonight. " or "You look tired, I'll give us a delay tomorrow" Over the years, you actually started to believe that she could control it. She was never wrong! Also, the weather guy was an idiot. He was not from the area, and would predict snow from the west, and we never got snow whaen it came from the west. We were in a valley, and the snow would hit the mountains, then peter out before it got to us. She would know when to contradict the weather guy, so it always seemed that she was in charge!
Now it's a big joke. I call her and tell her to stop sending rain, or whatever, and she aways says, "I'll work on it."