I forgot how much longer it takes cotton to dry than wool. Sheesh! I blocked this blanket early this morning, and it is still noticeably damp. Like, "you were sitting in the park on the grass watching a concert, and it had rained yesterday, and today the humidity is 75%, but you weren't missing the free Devo concert" damp. All of the silk/wool ones I have done were dry by the afternoon. I guess I got spoiled.
This lovely blanket is to be a gift for the new Baby, named Hannah, and her Mommy, Crystal. Hannah was a big surprise for her Mommy, and she is in need of all the love we can send her. I think this will be a nice warm hug for the two of them to cuddle up in.
Name: Hannah
Pattern: Cobweb Doily by Marilyn van Keppel, from Gathering of Lace
Yarn: Farmhouse Yarns Cotton Blossom in Marigold
Needles: Knit Picks Options, size 10.5
Notes: This circular blanket is the newest addition to the series I seem to be stuck in. This is probably the only one I am going to do in cotton, as my hands were ready to fall off by the end. The upside to the cotton blossom is the softness and relative lack of "need" to block.
The edges were a little curly before I blocked, but not too much. That means the blanket should look good, with out blocking to dry. (Like a new, first time mom is going to block something! ha!) I did like working with the yarn, despite the lack of stretch one associates with cotton. The Rayon gives it a nice drape, and just a little sparkle now and again. It wasn't splitty, or sheddy. It didn't stain my hands as I worked with it. Over all, very nice.
Like I said before, I pulled this yarn out of my stash. I picked it up at one of the infamous Farmhouse Yarns "Fill a bag" sales. I intended on making a baby blanket with it. I was a pretty "green" knitter back then, and I didn't always estimate (correctly) the amount of yarn I needed for any given future project. I was especially bad when it came to guessing how much yardage I had in an unmarked skein. I picked up these four unmarked balls of yellowy yarn and put them in my bag. Flash forward two and a half years. I wound them up. Now, my knitter sense was tingling. I KNEW I didn't have enough yarn. I has three balls the size of tangerines, and one ball the size of a grapefruit. I cast on any way. I should add here, the three little balls were decidedly lighter in color than the bigger ball. I used the small ones first, figuring that the darker color around the outside would be nice. At least that was a good guess, on my part.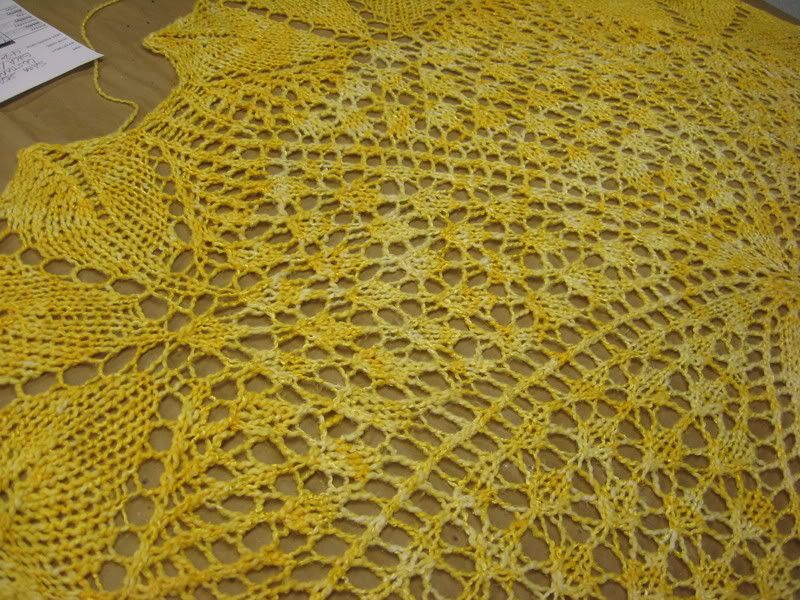 Anyway, I used up the third tangerine size ball, and was only to the last section of chart. I crossed my fingers. It did no good. I still had to go buy another skein. Oh well. This, by the way, was a really long way of explaining that I have no idea how much yarn I actually used to make this blanket. Three tangerines, a grapefruit, and a navel orange? What's that? 700 yards? I do like the color though. It looks like cheese poof dust, and I like me the fake cheese dust.
As far as lace goes, this is a pretty simple pattern, although Gathering of Lace does take for granted that you already know certain "knitter things". Like, chart reading, lace cast-offs, and circular cast-ons. The end result is quite smashing, if I do say so myself. But, It was a bit tricky to block. Since my table is a little shy of 4' across, I have been folding these blankets in half to block them. Line up all the points, all symmetrical, and such. This is not easy to do with a blanket with 7 sections and three points in each section. It ended up looking like this:
I didn't measure by the end. I just guessed. What the heck? The whole project was a blind leap of faith anyway. Why should the blocking be any different?
Come to think of it, Crystal made a big blind leap of faith in her life to bring Hannah about. I guess it's kinda fitting that I made a knitting one too, just fer her. (smile)