I am officially back! While it has been a sad week, it has also been a good week. I saw all of my relatives, some of which I haven't seen in years. We reminisced. We laughed. We cried. We sang the saddest song ever written. Grandpa even got to teach us one last lesson. All week it was 50 degrees. Spring was in the air. On Friday we had the funeral and interment - and it was 20 degrees, and really windy. Grandpa was the coldest man on earth, and it seemed to be his final lesson - "why aren't you in long underwear?" He always wore them. He might take them off in the summer. Most of the winter he wore two pair. We should have known better.
I managed to get some knitting done, even with the driving and the family time.
I finished the little green sweater: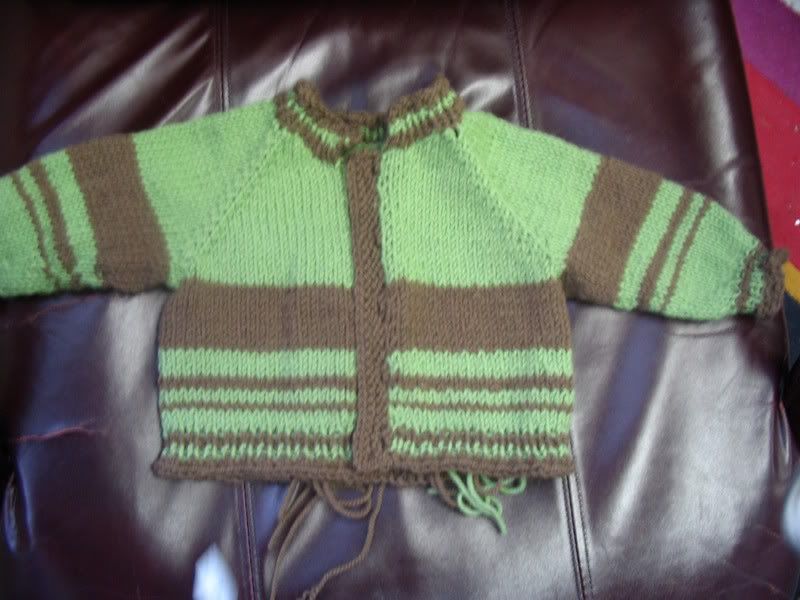 I still need to block it, but it is looking good!
the details:
pattern: Top down hooded cardigan from Knitting Pure and Simple
yarn: Ella Rae Super wash worsted
needles: Knit Picks Options size 6 and 7
notes: Super easy and adaptable pattern. I decided not to do the hood - as I thought I might not have enough yarn. (I easily would have) I added the stripes - as I wanted to. Over all, very cute and fun pattern. I now remember why I dislike stripes - so many ends! I'll definitely keep this in my pattern library. It is so fast and easy. Great baby pattern.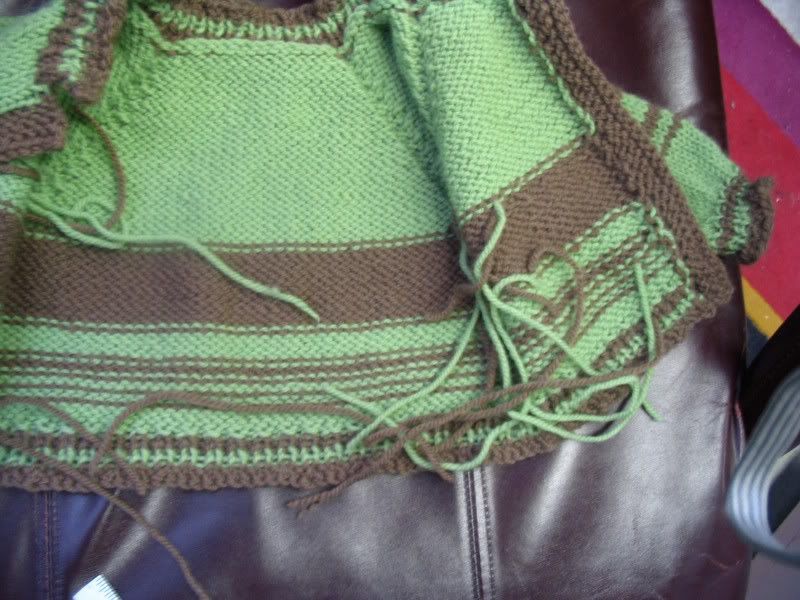 I also finished one pair of mitts for my friend at work. (The odd bulge is my watch)
The yarn is leftovers from a Christmas present scarf. It is Plymouth Suri Merino. I am tempted to keep these for myself.... I made the pattern up as I went along, and used Susan Bates size 7 DP needles. I have a pair or two left to make for her. what yarn to use.......
Another friend from work wants me to make her a hat to go under her ice climbing helmet. First of all, I didn't even realize that this is a sport, let alone a sport that a sane person would do. She told me that he is going this weekend, and can't find a good hat for underneath. What I heard was, " I am going to go and try to kill myself this weekend, and can't find a good warm hat to wear." I have some great silk and wool blend yarn that will be a good thin, but warm hat.
I also got an e-mail from Socktopia about the themes for March. They are:
It ain't easy being green
What's on TV?
Around the World
Spring Fling
Dance Dance Revolution
I've been "pre-thinking" about these socks. I am all set to do the green theme, but now I am leaning towards Dance Dance...... hmmm. I can't start until Thursday anyway, so I have plenty of time to think....
I am officially half way through my tiers! I finished 12 last night. Chug Chug Chug!