Artists are always defined by their "periods". Wether it is working in a specific color, or creating multiple works on one subject, the point is - they do something over and over again. Right now I am in a "green" period. If you remeber, I did it with purple this summer. Everything I was working on was purple. I even was dressing to match my projects. I've also had mini-periods. Brown for a couple projects, red for a few in a row...but, I now seam to be immersed in another one. It's weird really. I like green. I find it refreshing to look at, but can actually wear very little of it. I tend to look a bit sick if I wear too "yellowy" of a color. I find it especially odd to have so many projects in the green world OTN.
My FPS has moved into the 5th tier! I took this picture when I finished 4. It is very hard to photograph this project mid tier, mostly since I am not doing the holder thing. (I am using one long circ.)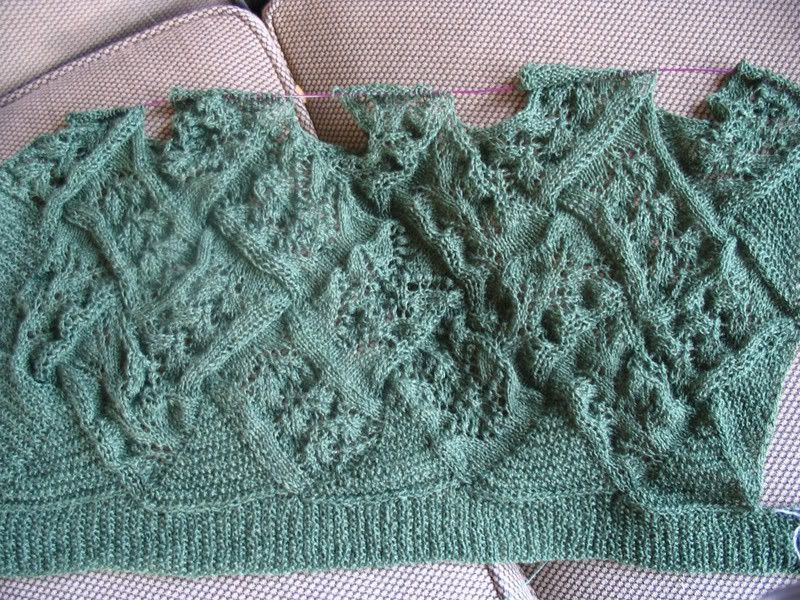 Oh the wad that is my FPS. I am trying to get as much done on it as I can over the next few days. I have another tech coming up, and I know I cannot work on it then. I will feel woefully behind schedule. Maybe I can get through teir 5 tonight!
Just to show everyone, this is how I keep track of where I am in this pattern: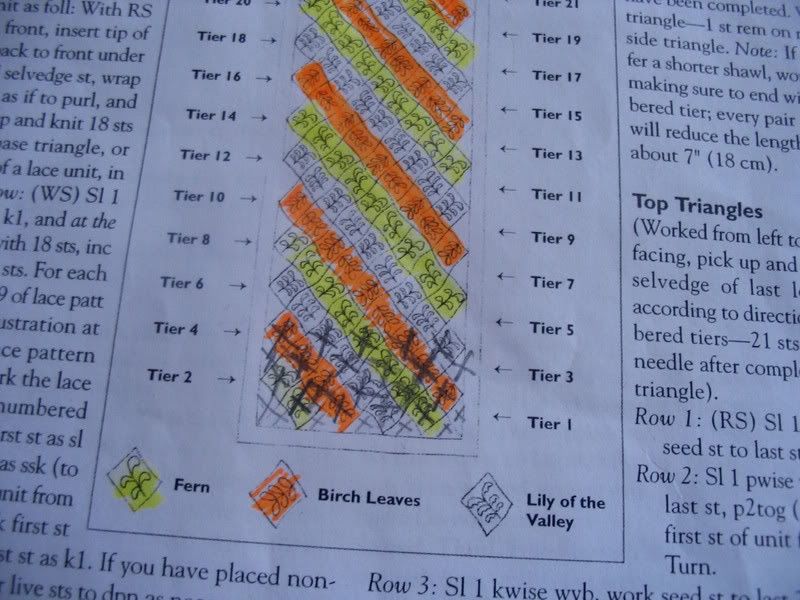 The baby sweater is moving along as well. I took this picture yesterday morning.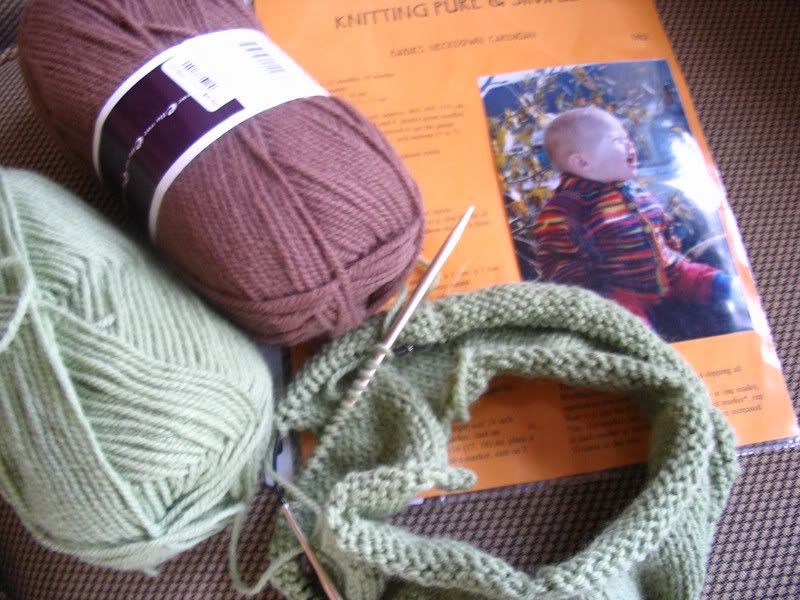 Last night, after my "lace skillz" conked out, I worked on it a bit. The body is done already! SO much for having this project to work on during tech! I'll have to find another one to play with, cause this will only get me through Friday!
My third green thing OTN is another "slingshot" from Knitty. It is for a freind at work that is so jeleous of mine that it hurts. SHe also is allergic to wheat, so she can't have any fausnaughts next Tuesday. (I'm going to give it to her as a present instead) tricky.
In the works is agreen pair of socks - St. Patrick's day is a short half a month away, and you can't tell me that ONE of the themes for Socktopia isn't going to be SOMETHING to do with St.Pats. I, sticking with the rulels of Socktopia, am not going to start them until the first, but I am daydreaming them already!
You know, maybe I'll go back though my projects since I started my blog, and total up how many FO's I have in each color. I kinda want to know....