February 1st is here!
My FPS KAL starts today, AND my February Socktopia socks start today!
SO much to start!
SO much still OTN......
The February themes for Socktopia are:
Life is like a box of chocolates
Forever in my heart
Bed of Roses
Short and Sweet
Laissez les bon temps rouler!(Let the Good Times Roll)
I had a hard time picking one this time. I have ideas for all of them. I came down to the yarn choices. I want to knit from my stash as much as possible, so I just had to see what I have floating around. I have tons of good choices, but not really any great ones for most of my ideas. I settled on this yarn: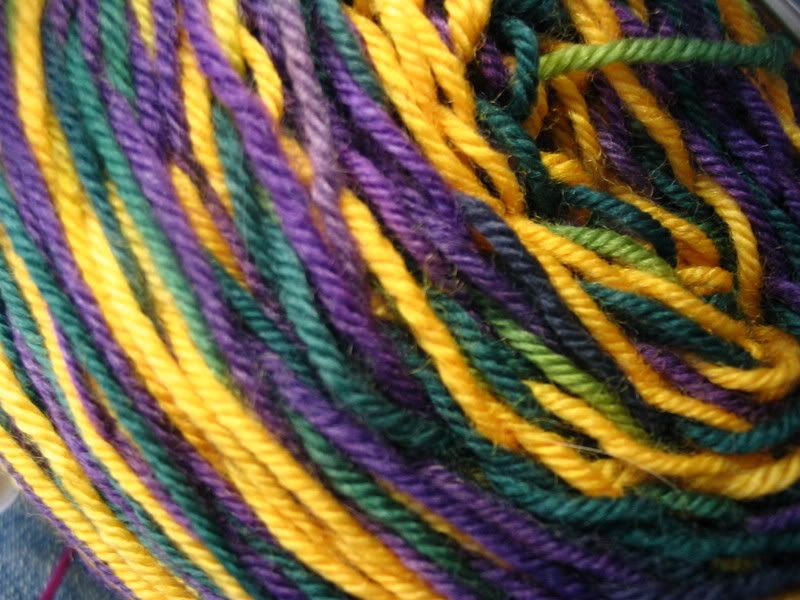 I think you can guess my theme. I am making the pattern myself, and am pretty happy with it so far. I am just about ready to turn the heel. (I had a lot of time in the car today) Pictures when I'm done! Maybe Monday, if I put off the FPS.
Speaking of FPS, I really don't want to put it off. I am going nuts to start it! We'll see which wins out.
I've still not frogged the DISASTER sleeves. I know how I will fix them. I just don't feel like doing it yet. I've got the stupid project blues.
Then what, you ask, have I been working on for the last few days? Well, I have been readying my FPS pattern, I've wound my February Sock yarn, and my School Products yarn, I wrote the February Sock Pattern, and I worked on a "Slingshot" for my friend from work. I've been kind of busy in my non-knitting life, as I have another design coming up in March, and I am opening two shows before that. Not so big of a deal, but the one show is "Man of La Mancha". The show in March is a huge one. I find out how huge on Monday. At least I have all weekend to knit away, and not worry about it too much.
I really want to hit a yarn sale or two this sunday. It seems like every store is having a Super Bowl Sunday sale, or a going out of business sale. If I go to all of the ones I really want to go to, I will attend 4 slaes this weekend. The number of sales doesn't bother me, but if I do it, I will get very little knitting done. and it is, of course, also rent week. Poo. I wasn't going to go crazy at the yarn store, I just want to check it out. I probably *will* buy sock yarn if I go to any of these sales. no... I will. No "probably" invloved.
well 'till tomorrow!