Well, the new blogger is up and running. My issues with it aren't that I couldn't get certain functions to work, it is that I liked "old blogger", and had no real desire to switch to "new blogger". eh. It just took forever. Two easy steps my ass.
anyway, enough grouching. on to the knitting!
The February Socks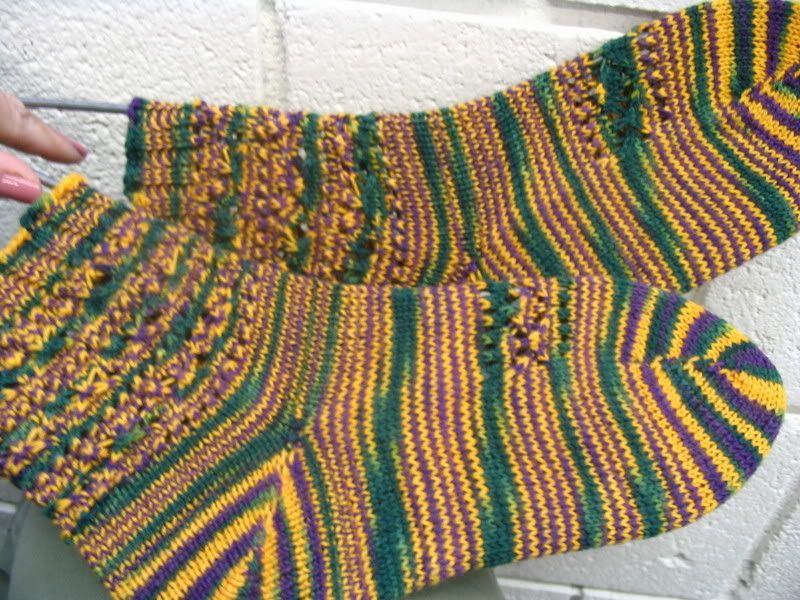 Knit for
Socktopia
, these socks represent the
Laissez

les

bon

temps

rouler

!(Let the Good Times Roll)
theme. I chose this theme because I love "Fat Tuesday", also known as
Mardi
Gras
, and known where I grew up as "
Fausnaught
Day". The PA Dutch
celebrate
the day by making little fried doughnuts and passing them out to others. The idea is that you get back ten fold what you give away, and giving away fat and sugar in the middle of winter reminds you of sacrifice. M
ardi
Gras
is like the exact opposite celebration to kick off the Easter season - Party Down 'cause you ain't
doin
' it again for 6 weeks!
A little about the socks:
Name:
Bourbon
Street Socks
Pattern: my own toe up, short row heel pattern, knit over 64 stitches.
Needles: Knit Picks classic
circs
- size 0
Yarn: Lorna's Laces "
Mardi
Gras
" colorway, one skein.
Notes: I used a lace "bead stitch" around the toe and on the cuff of the socks, to represent the
obligatory
beads thrown on
Bourbon
St during
Mardi
Gras
.
Obviously
the colors are the
official
colors of the event, and I like that the pattern is obscured my the colors. Normally, that is not a desired effect, but since
mardi
gras
is such an
assault
to the senses, I decided to carry it over into my socks.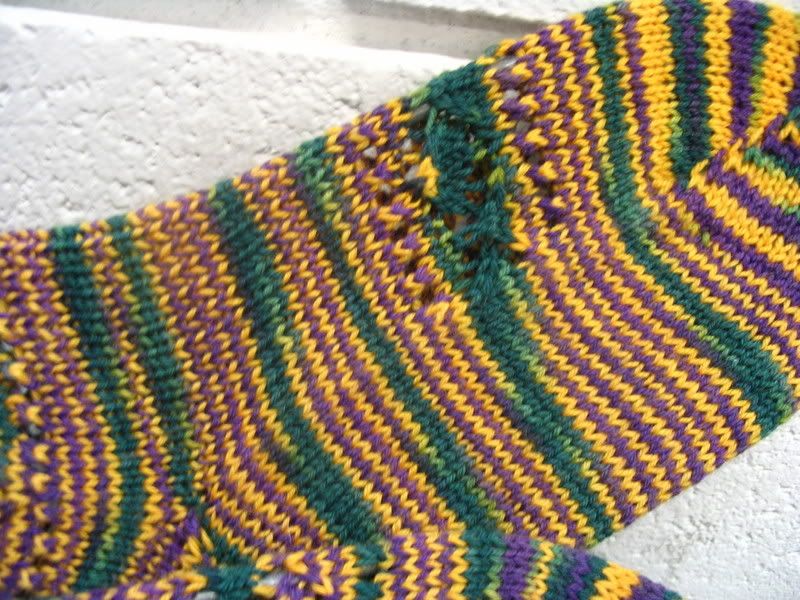 In FPS world, I decided to work on my socks, and mostly put off the stole until last night.
(as a side note, I have to say that I love getting design work. It is what I went to school for, but I hate giving up time right at the beginning of a project to doing actual work. This makes me a bad person, I know.)
This is my progress: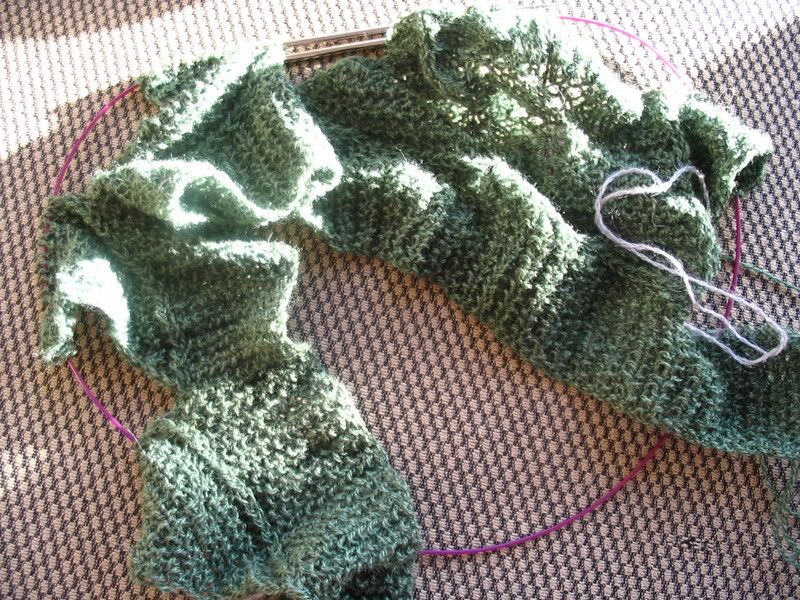 That wad is me finished with one rectangle on one tier. well, at least I got the bottom border, the set up triangles, the first side triangle, and one rectangle finished. When you put it like that it seams like a lot.....
Like I said yesterday, I went on a bit of a yarn crawl on Sunday. Every store was having a Super Bowl Sale. I'm am SO down with that. I set my limit at $60, and decided to only get sock yarn, as I have a few holes in my color selection, as well as ideas for a few pairs that I don't have yarn for.
I started at "the Yarn Garden" in
Meriden
. In this store all yarn was 41% off. Sweet. I only bought one pair worth though. I should have gotten more, but I didn't want to buy tons in the first store, then be sad when I got to the last store and fell in love with ten things I couldn't afford. So I just bought two skeins of
Regia
Silk in a gorgeous
butter cream
color.
I've been interested in this yarn for awhile, and am so happy to have it in my collection. I have stopped myself from getting it a few times because of the cost (!) and the fact that I always come across dark colors. I love dark colors, but I wanted some lighter colored yarns for more variety in my knitting choices.
Next up was
umm
.... the store I call
Wallingford
Yarn. I can't remember the real name. well, it's the only one in
Wallingford
, CT, so it should be easy to find if anyone is so inclined. I like this store, although I don't go very often. It is open on Sunday, which I love. It is also pretty spacious, as yarn stores go. They have a lot of novelty, but they carry a really good selection of basics and
luxury
as well. I decided to stop when DH pointed out that we were going to go past it on the way to the next store. I said that I wasn't sure they were open on Sundays anymore, but why not stop? They were open, and I did shop!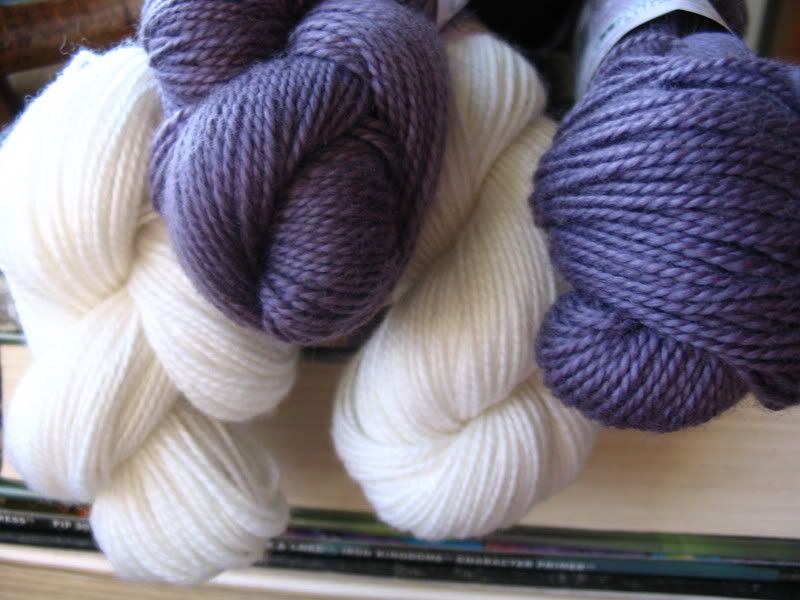 Four skeins of Gems Opal. I love this yarn. It makes me happy. It is soft and shiny, and machine washable and
dryable
. sweet.
Lastly, I made my way to the Yarn Barn in
Woodbridge
. This sale was the one that EVERYBODY was going to.
Honestly
, I wasn't too impressed with the sale. Lots of stuff was on sale, but of course not any sock yarn. They were doing a "pick a slip of paper to see how much you get off of non-sale yarn". I got 15% off my yarn.
ok
, but not great. It was a madhouse! i was there about 10 minutes after they opened, and it was already super full. Holy Crap. I waited for 30min!! in line to buy my three skeins of yarn. They only have one cash register, and it is a slow process. There were only 3 people in front of me, but when I got done paying the line had to be 40 people long. I love my yarn, but I really don't like this store. I have a less than stellar experience each time I go. I could go on and on about it, but I'll stop. I did get good yarn, though!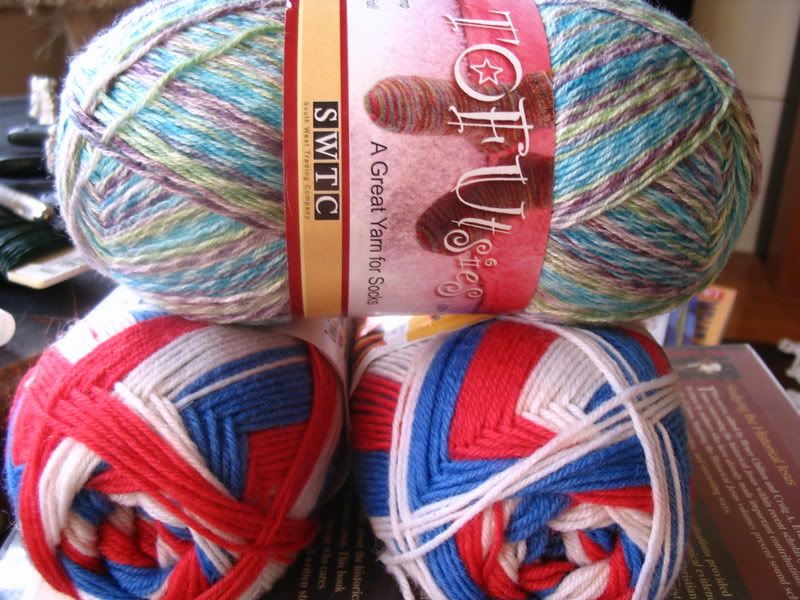 The
regia
nations
stripe
is for a pair for my brother. His school colors and Red White and Blue. He'll love them. the other skein is
Tofutsies
! I have
been
coveting this for months. I keep putting it in my shopping cart on line, then taking it back out. I just wasn't sure I wanted to get it, or maybe it cost too much.... I saw it, and HAD to get it.
wow. Long post! Maybe tomorrow I will have more progress to show about my FPS!