My assistant made Valentines for everyone using stuff around the office. Awesome use of office supplies, if I do say so myself. This one is mine.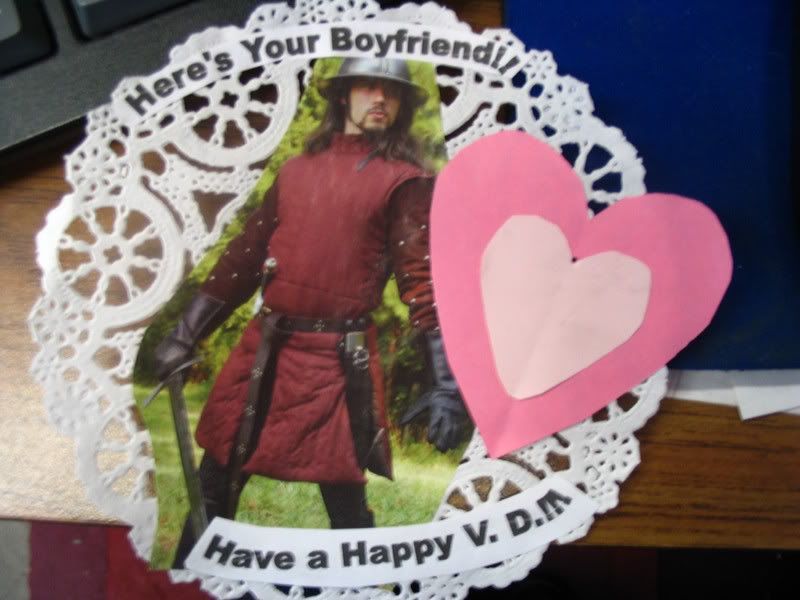 You are so jealous if my boyfriend. I can tell.
DH and I aren't doing much for Valentines day this year. We are a little cash strapped right now. He is cooking me dinner - don't get me wrong - I like that - but we are skipping our usual trip to Red Lobster. Don't laugh. We're not foodies, and Red Lobster holds a lot of tradition for us. It was the best place we could afford for a long time. It's like being newlyweds again. Crap. Now I want crab legs.
My FPS is growing like a weed. (HA!) I finished tier 6 last night! I am a quarter of the way through the tiers!! I have officially memorized all of the patterns, and have reached cruise mode. I also don't really need my placement chart anymore. I can tell what pattern goes next. I'm still using it because I get to cross each panel off as I finish it. I am obsessed with lists because I get to cross off things, so my chart is just a fun extension of that obsession. I've been reading the othe FPSers blogs. It is nice to see and hear the progress of others. I feel a bit left out though. I don't have any trouble with the nupps - and I do them "as written" in the pattern. The first time I "nupped" was during my Swallowtail shawl in August. I didn't have trouble then either.
(In fact, I kinda like them.)
I suppose I'm just weird. And I suck, as I forgot to take a picture. Although, it looks just like it did before... just longer.
My baby sweater (awww) has a collar. I have sleeves and button bands to do yet. I totally forgot my DPN's yesterday, so I didn't get very far on that project. Smart, I tell ya.
Lastly, I have chosen yarn for the first pair of fingerless mitts for my friend from work. I am using the extra ball and 3/4 I have of Plymouth Suri Merino left over from my Falling Water scarf.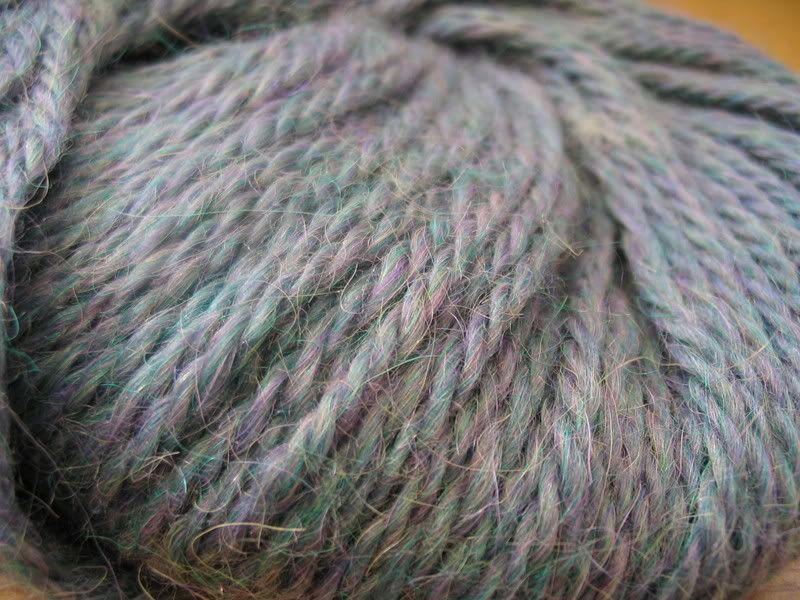 I plan to use it to make Knitty's Fetching mitts. hmm. A seeming departure from Green. But, not really. When you look really close at the yarn, it is made up of lots of colors, a lot of which is green. ah. sweet justification.
oh, and for some Valentine's Day fun, read Franklin's post: