I was a knitting machine this weekend! I finished Swallowtail - the main goal. I snagged a few pictures after I set it out to block. I hope to grab a picture of the bride with it at her fitting this afternoon.
I also finally finished the last little bit of my Mystery Stole 2 - now named "Scherazade" I know I am spelling it incorrectly - I just don't feel like looking it uip right now. I am currently blocking it also. I don't know how the other MS2's are getting pics of the whole stole all at once. I had no luck at that what so ever. SO my pics are in pieces.
The edging.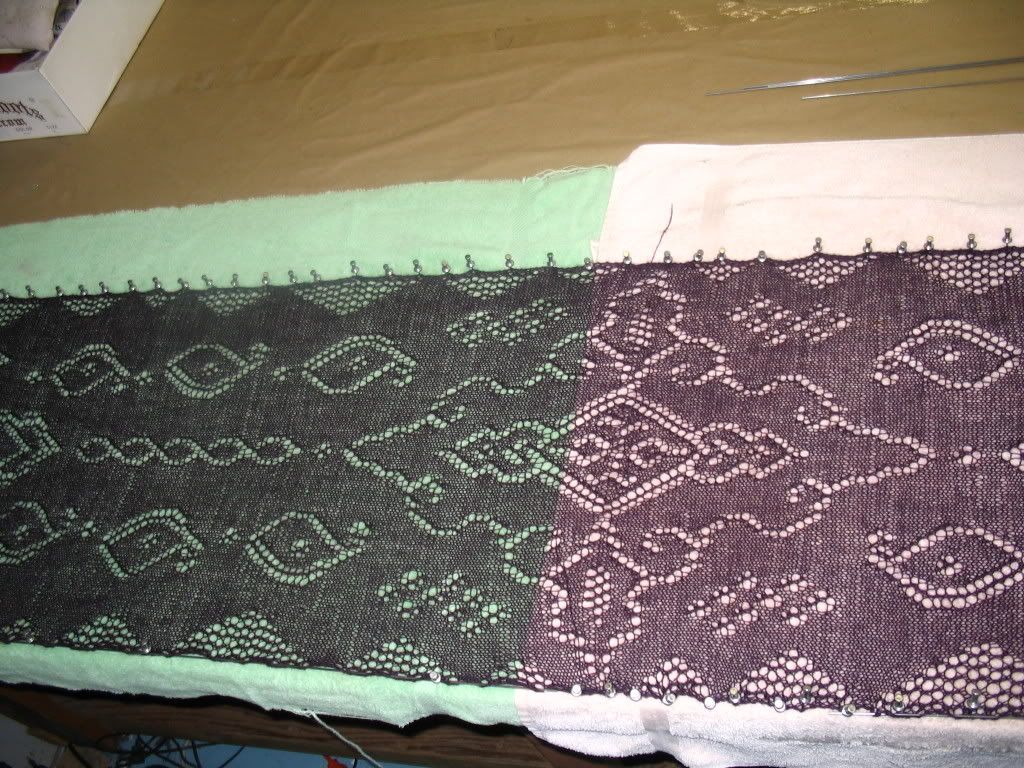 I tried to get up high enough to take a picture of the whole thing....
My table wasn't long enought either. I used my sleeve board to Jerry rig an extension. Ghetto, I know.
I think I will use this when I go to Frank's wedding in two weeks. A fitting debut!
Last, but not least, I cast on for my second Mystery Sock. I went to the beach on Saturday with Lesley. I didn't want to get the Swallowtail sandy, and the MS2 is too big for the beach. So Mystery Sock to the rescue. I didn't even bother with the picture. I am still on the ribbing. Quite frankly, I was talking more than I was knitting. Surprise.
Saturday was a crazy day. Lesley was staying at my place for the weekend. (There is a whole subletting from a crazy person story there, but we won't go into that. ) So we went to the beach, dyed streaks in our hair fire engine red, went out for tai food, went to the bar, then went Dancing until 3am. We drank "red deaths" in honor of our new hair, and picked up boys - which is funny because we went to the gay bar. So, as you can guess, we didn't do much of anything on Sunday. We watched 3 bad movies and ate pizza. Hence the great amount of knitting on my part. Next weekend will be much the same - as we are taking rebecca out for a bachlorette drunken dance fest. Fun with booze.