I found out about a seven shawl series by Rosemary Hill from
Jennsquared
. Each shawl is inspired by one of the Seven
Pleiades
- the seven sisters from Greek Mythology that were relentlessly
pursued
by Orion. Zeus turned the sisters into doves, then later constellations, along with Orion, so he could ever pursue them. They, along with the Hyades make up the constellation Taurus. Since I am a
Taurus
, how could I refuse to knit these shawls?
The first one,
Merope
in inspired by the Mythological wife of Sisyphus - the mortal that had to keep pushing the boulder up the hill.
Merope's
star is very dim, since she married a mortal, and is often called the is the "lost
Pleiades
" since she
astronomers
originally couldn't see her. People are going to be able to see this
Merope
. Being acid green, and all...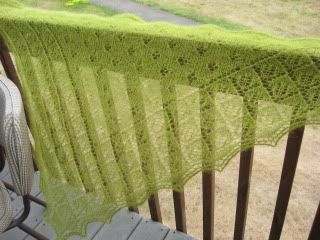 Yarn: Rowan Kid Silk Haze, 2 balls in color 597
Needles: Knit Picks Harmony, size 5
Notes: This was my first time using Kid Silk Haze, and I love the end result. The yarn has a beautiful halo, and even though it is half mohair, it isn't itchy. (at least to me,
ymmv
.) But, it is a pain in the ass to knit with. Not a huge pain, just enough to make it frustrating. It is
simultaneously
sticky and slippery. When you want it to slide, it won't, and when you want it to stay it slides. I didn't have to frog at all during this shawl, thank
George
, but I can only imagine the streak of unsavory language that would have come out. I have heard that throwing the project in the freezer for 15 minutes helps in the frogging process. I assume it helps lay the barbs on the mohair fibers down, not that the freezer suffocates the thing.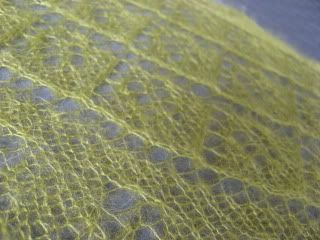 Morope
is knit from the tip to the top edge, starting with "all pattern" and getting increasingly more stockinette filled in the center. It is a nice way to knit a shawl. It
gets
proportionally
less "
charty
" as you go.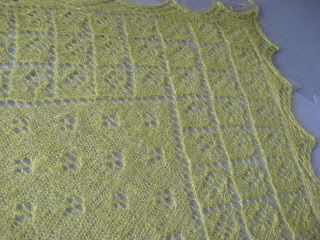 What looks like an applied
edging
on the sides of the shawl is actually a border that is knit
simultaneously
with the body. Some
designers
would make the three components of the edging, border, and center all
separate
charts, that you, the knitter, have to keep track of
separately
,
Romi
made hers one chart.
Ahh
.... one chart. I love simplicity in chart following.
The top edge has my favorite style of finishing! Knit on border! Only 7 stitches to bind off! woo! That was a lot of excitement over an edging...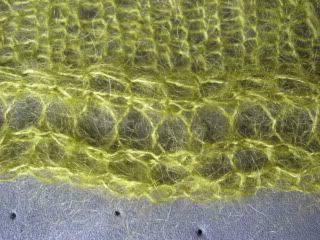 All in all, I'm very pleased with this shawl, and super excited to cast on for the second shawl in the series. I think these will be great gifts!