Truly I do. Sadly, it seems to be the only thing I actually finish, block and take pictures of though. sigh. At least it's pretty to look at!
Name: Homage to Ricky
Pattern: Traveling Woman
Yarn: Lisa Souza Sock! in color... ummm.... Pink
Needles: Knitpicks options, size 6
Notes: I am aware that I have stepped outside my "normal" color range of 'bruise' on this project. It is pink. Like "whoa" pink. That said, I love the end result, even in all of it's super pepto pinkness. Originally, i got this yarn in a swap on Knitty. I had wanted to try the yarn brand, a knitty member wanted to trade some, and voila! I thought, "It's for socks. even if I don't wear a lot (or any) bright pepto pink I can still wear it. It's just socks! " Fast forward 5 years.
I now come across the Traveling Woman Shawl pattern. It calls for fingering weight yarn. I have a ton of fingering weight yarn.
**we should pause here. For those of you that don't know me in person, or those of you that do but don't know me well, this may come as a surprise... I am a truly lazy person. I will work my fingers to the bone when I'm designing/ building a show, but I am just not into it around the house. This extends to my yarn wall, yarn winding, cleaning out project bags.... that said, the rest of my story will make more sense.**
Sock yarn is by far the most random part of my yarn stash. I tend to pick up new types/ fibers/ dyers as I come across them. Therefore, the majority is bought with out true purpose beyond "it's for socks." That is why it is no big deal for me to dig in my stash and pull out some yarn. I didn't have a clear plan for it anyway. "How do you decide which yarn to pick?" I heard you say.
Good question, and the point of all this typing. I decide by... (drum roll)..... which is wound/ pre-balled. I kid you not. There is no "I could use a pink shawl" or "this color would be great for so and so". Nope. It's "this one is balled and on the outside of the stack."
Honestly, it probably doesn't help that the majority of my projects are started after 11pm at night. Who the hell is going to clean off the table, get out the winder and swift, and carefully ball lace or sock yarn at 11 pm or later? Seriously. Ok, if the yarn was perfect, and no easy other solution presented itself, I might, MIGHT, do it. I also am just as likely to keep looking. anyway... this is how I ended up with a bright pink shawlette. Tada!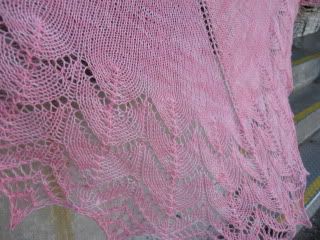 I am nothing if I am not knit impulsive. I decided at 11pm on a random day, two weeks ago, that I needed a new take along project. The ones I have on the needles are not acceptable for chart following and paying attention reasons. We had been talking at SnB about the Traveling Woman Shawl. It was in my Ravelry queue, the Internet was working, I was able to download it, I had the yarn.... and that's how it happened. Poof. I can say, for as simple as it is, it is a fun knit, and has some little quirks to keep you on your toes. After the initial stockinette section, the increases are all on the sides of the shawl, instead of down the center and at the sides. This makes the shawl curve up at the sides, and purposefully stay on your shoulders without bothering at it.
The lace patterns, themselves, are clearly charted, decently simple, but not irritatingly simple. (Like feather and fan. blergh.) The hardest part is remembering to yo on the rest row. I can't tell you how many times I forgot and had to pick them up on the next row. duh! I knit it as written, but the instructions for customizing the size are easy to understand, and would be easy to follow. (In the interest of science, I weighed my skein. I have 50 grams, out of 113 grams, left over. I could have made it at least one repeat bigger.)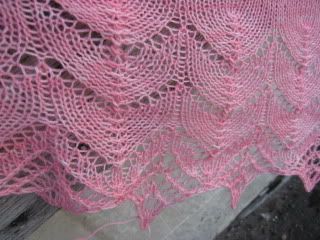 The yarn is pretty typical sock yarn, although it blocked better than I thought it might because of the nylon content. It isn't too soft or too scratchy. Rather Regia like in it's drape and feel. The lovely kettle-dyed tonal quality is beautiful. Overall, I'm very happy with my super pink shawl!
P.S. Because I start my projects after 11pm, I tend to name my projects at 1am... or later. I knit for a bit, then go on Ravelry and add a project. Most of my projects end up with crazy names that I think are meaningful or funny at 1 or 2am. I've also, usually, been watching Adult Swim on Cartoon Network, so my sense of humor can be.... weird.... late at night. This is what happened to this shawl. For some reason, the name "Traveling Woman" made me think of the Ricky Nelson song "Traveling Man", one of my Mom's favorites. I decided to knit it as an Homage to Ricky Nelson, I guess. Welcome to my brain everybody. If you can find a place, feel free to sit down.