As of 9:30 this morning, I was here: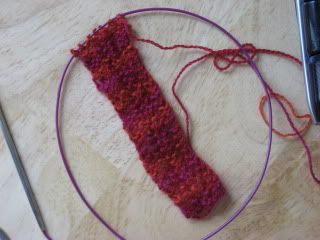 I'm writing this at 12:30, and have reached row 15. I already have 100 stitches. I have to follow two charts
simultaneously
, keep a seed and garter stitch border going, and I'm knitting on size 3 needles. I usually knit lace on 4 or 5's, but this will be huge if I knit on that big of needles.
That cast on above? It is 7 stitches wide, 2 garter, 3 seed, 2 garter. It is 56 rows long. This is why I don't read patterns too
carefully
before I start. I probably would have changes my mind.