Last Thursday at SnB I managed to finish the cast off for my latest lace project: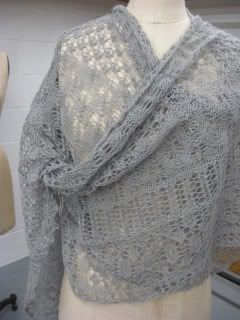 Name: Rows of DOOM!
Pattern: Sampler Shawl by Cheryl Oberle, from Folk Shawls
Yarn: Valley Yarns 2/14 Alpaca Silk in light grey
Needles: Knitpicks harmony size 5
Notes: First of all, I love this yarn. I used my leftovers from MS2, and frankly, was unsure if I would have enough. Turns out, I did...but just barely. I had maybe 25 yards left over. (The final edging is a doosy!) I know a lot of people are turned off when they feel it at WEBS, because it has a stiffness to it. Let me just say, "Don't knock it until you've blocked it". Seriously. It is so soft after you block it. Luuuurve.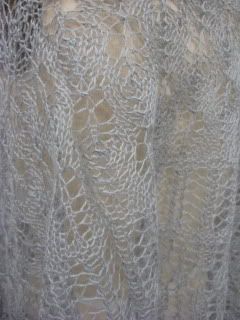 I loved some stuff about the pattern, and disliked some other stuff. What I liked: changes stitch patterns often, so no boredom; makes a nice big rectangle - good for us larger boobed ladies; & inspirational - makes you want to invent your own! What I disliked: 400 stitch rows; the notes about how many times to repeat a pattern weren't terribly clear; 400 mother fucking stitch rows!! Damn.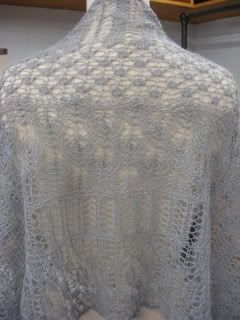 It was worth it in the end, because I love it. I really do. The slog through the long long long rows made it good SnB knitting, since I didn't have to constantly check my charts, and the stitch patterns were relatively easy, no need for tons of stitch markers. Overall it was an easy knit for a lace shawl, and ever changing for us easily bored types.
One final bit of advice if you venture down the Sample Shawl route... don't figure out how many stitches you have left to do at any point. Seriously. When I got to 25 rows left I stupidly did the math. When one thinks they are in the home stretch, seeing the sum total of "10,000" stitches left to complete (PLUS a cast off) just about makes you want to die. That is all.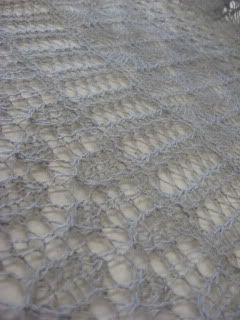 P.S. if my first pic is sideways, my apologies. I corrected it in flicker, but it doesn't seem to want to stay corrected.