It's been a week since I posted last, and I'm feeling mighty behind. I have so much knitting stuff to show you, and not enough time to post about it. Part of the problem is that my Pirated Internet is shoddy at best, so I can't post from home. At work, I've been crazy busy - between actual work and teaching 4 days a week, so posting here is hard too. (Sheesh. Making me work at work. Lame.)
The bad thing is that I don't think my busy schedule is going to slow down anytime soon. I'm an insane woman, evidently, because between now and May 16 I am designing a 20 person play, an opera, and Midsummer Night's Dream. Frankly, I only have myself to blame, but if I still have hair in June I will consider myself lucky.
In knitting news, I have competed clue #3 on my equinox shawl. I really need to take some pictures of it. So far, I like it very much. I plan to give it to the Gala Silent Auction at LWT, so I have to stay on track! When I start getting hella busy, it might be the only thing I am working on!
My Black Hearted Socks are coming along. I have reached the stage in sock knitting where you knit and knit but the sock doesn't grow. The gnomes are ripping it at night.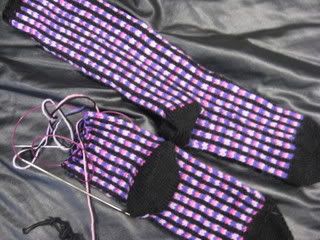 Mr. Ships Mittens have stalled again. I'm just not sure they are going to fit. hem haw. hem haw.
But, in the midst of all my slow progress, I managed to knit three baby hats for Charity!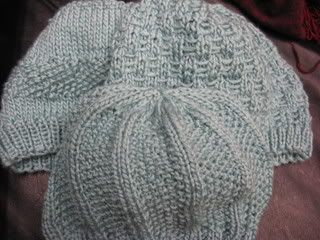 Name: The Cutez Bebe hatz evah!
Pattern: Knitter's Handy Book of Patterns, basic hat 6-12 month
Yarn: Naturally Caron Spa in "Ocean Spray"
Needles: 4mm DPNs
Notes: Aww da wittle bebes are da cutez! Making baby hats always insights choruses of "awwww!!" and "OOOOOOOO!". Unfortunately, it also invites the "Are you pregnant!?!" question and the dreaded, "OMG! WHEN ARE YOU DUE??!!?!?" (Yeah thanks for thinking I look pregnant. Makes me feel awesome about my body.) But, they really are fun to make, even with the comments and questions.
The first one was seed stitch and stockinette.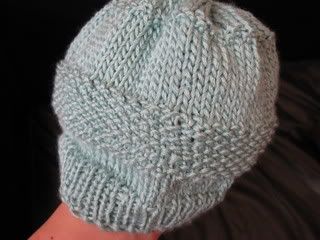 #2 is a slip stitch pattern.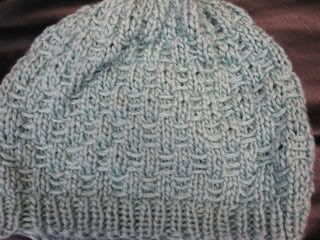 The third is seed stitch ribbing.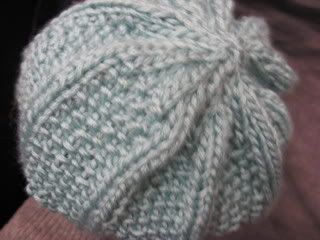 I am surprised I got three hats form this one skein of yarn, and I still have left overs! It was nice to knit with, but a lot splitty. The end result is so very soft, and since it is mostly bamboo, it should wear well. I don't know that I'd want to knit a big project out of Caron Spa, but it was fine for a small project like this.
I have another skein of yarn at home that I think would be great for baby hats, but I'm not sure that I am going to get to it in the next week. The hat collection is next Thursday, and I'm booked a little tight until then. You never know though!